Do government cuts mean some now 'dial 999 and wait'?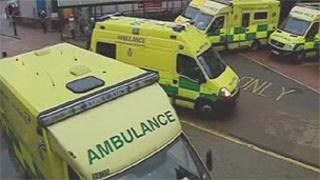 With much of the public sector in Britain grappling with shrinking budgets, the BBC's Panorama programme has been asking if cutbacks could make our emergency services slower to respond?
Dialling 999 is a call that most people hope they need never make.
Six weeks ago, 83-year-old Patricia Warbey of Watford suffered a nasty fall in her home.
With two replacement knee caps already, she knew that she was badly injured when she dialled 999 from her mobile.
More than an hour later, still lying on the floor, she rang her daughter for help.
Melissa Robinson says she reached her mother's side within 10 minutes and rang 999 three more times over the next hour trying to secure help, only to be told that since her mother was breathing and not bleeding she was not considered a priority call.
She said the incident, in which her mother suffered a badly broken leg that has kept her in hospital ever since, has caused her to question emergency services.
"I was led to believe that if you phone 999, an ambulance would arrive within 10, 15, 20 minutes, half an hour at the most - that is what my preconception was."
The East of England Ambulance Trust said their initial information was that there were no serious injuries to Mrs Warbey which meant the call was given a one hour response time. But when they received new information indicating an emergency, they dispatched an ambulance.
Unlike the police or fire brigades, NHS budgets are ring fenced, so that, in theory, ambulance trust budgets should not be cut.
But rising costs have meant that they too have had to find tens of million of pounds in savings.
The East of England Ambulance Trust, for example, needs to find £50m in savings over five years.
Hidden failings?
Despite this, in England a recent government statistics found that all 12 ambulance trusts have hit a key target of attending 75% of life-threatening emergencies within eight minutes.
Part of that success has been credited to the use of a measure called Enhanced Clinical Triage, which uses medical clinicians to assess each 999 call as they come in to determine how quick of a response each call requires.
But Panorama spoke to representatives from four different ambulance trusts and five different frontline workers and heard concerns that the clinical triage system was being used to hide failings in response times in order to massage the success rates in hitting that eight minute target.
Paramedics said they had seen genuine emergencies downgraded when it became clear that the ambulance was not going to be there within eight minutes.
Others said they believed low priority calls where an ambulance happened to be close by and could respond very quickly, were being upgraded to an emergency call for the purposes of collecting statistics.
One paramedic, who asked to remain anonymous, said: "We are seeing jobs where they are being reprioritised, we know why it's being downgraded because we're not hitting the target if everything remains correctly prioritised."
The Department of Health said in a statement: "We have no evidence to suggest that ambulance trusts are reclassifying calls in order to meet performance standards.
"But if ambulance trusts did act in this way it is something we would take extremely seriously and would expect the health care regulator, the Care Quality Commission to investigate."
They added that callers may be placed in a different category based on additional information obtained and that the aim is to provide the most clinically appropriate response.
Delays 'worrying'
Unlike ambulances, police forces do not have protected funding and the planned cuts are hefty - central government funding for police budgets in England and Wales is being cut by 20% by 2015.
So are response times to police emergency 999 calls being hit?
The last government made all police forces sign a pledge, which said they had to attend emergencies within 15 minutes in urban areas and 20 minutes in rural areas.
But that was abandoned by the current government two years ago as part of a drive to reduce red tape.
While anecdotal evidence from frontline police officers points to longer response times, a report last year by HM Inspectorate of Constabulary (HMIC) concluded that they were being maintained.
That report surveyed 10 police forces out of 43 in England and Wales about their response times. In six they found improvements.
The BBC used the Freedom of Information Act to ask all of the 43 forces in England and Wales, as well as those in Scotland and Northern Ireland about their response times this year compared to in 2011.
While it is difficult to compare police forces which are dealing with diverse geographic areas, the results point to a significant variation across the UK - even for different areas served by the same force.
Among the worst performers were:
Derby, 19% of emergency calls did not bring police within 15 minutes
The London Borough of Hillingdon, 20% of emergency calls were left waiting for longer than 15 minutes
Dover, part of Kent police, where 28% of emergency calls did not see a police officer arriving within 15 minutes
Lord Brian Mackenzie, an advisor on policing to the previous government, said he could see a link between slower response times and cutbacks.
"It's extremely worrying because the police are not going to get it right every time but certainly I think the figures reflect the cuts in real terms and I don't think you can put any other gloss on it quite honestly.
'Efficiency needed'
In a statement, the Home Office said: "The proportion of officers on the front line is increasing, the number of neighbourhood officers has gone up, crime is down and victim satisfaction is improving."
It added that the most important target was cutting crime - which was down 4.2 % last year - and that most cuts were focused in the back office operations.
And one influential think tank said it was time the police became more efficient.
Andrew Haldenby from Reform said he believed police forces had been reluctant to take difficult decisions around reorganising in order to save money.
"I think people in emergency services and the public services have got used to steady budget increases for many years, particularly the police so any budget cuts seems quiet shocking to them, but its still the case that these services have never had more money than they have now."
Panorama: Dial 999…and Wait? BBC One, Monday, 3 September at 20:30 BST and then available in the UK only on the BBC iPlayer.