'Concerning' jump in whooping cough cases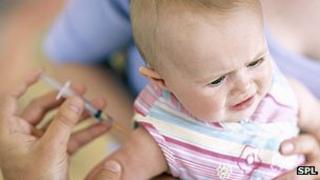 There has been a large rise in the number of cases of whooping cough, as the outbreak in England and Wales continues.
By the end of June there had been 2,466 cases in 2012. There were an additional 1,047 cases in July alone.
The total number of cases for 2012 is now three times higher than for the whole of 2011.
The Health Protection Agency (HPA) said it was "very concerned" by the number of cases.
The main symptoms are severe coughing fits accompanied by a "whoop" sound as young children gasp for breath.
In older children and adults, the main symptom is a prolonged cough.
Surges in the number of whooping-cough cases are seen every three to four years.
Dr Gayatri Amirthalingam, from the HPA, said: "We are very concerned about the continuing increase in cases.
"Parents should ensure that their children are vaccinated on time so that they are protected at the earliest opportunity and be alert to the signs and symptoms.
"We also advise parents to keep their babies away from older siblings or adults who have the infection."
Babies are offered a whooping cough vaccine at two, three and four months of age.