Why Paralympians need 'extreme sports medicine'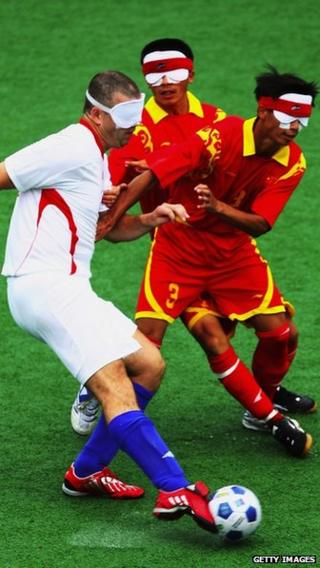 There is little doubt that GB athletes competing in the Paralympics are extremely well-prepared and in perfect shape.
In that respect, they are no different from Olympic athletes.
The dedication and hard work required over many years to put them in with a chance of a medal means pushing their bodies to the limit.
For Paralympians this can sometimes create its own problems in the form of some very specific injuries which need to be treated by experienced medics.
Dr Richard Weiler, the Paralympics GB doctor for the blind five-a-side football team and cerebral palsy seven-a-side football team describes his job as "extreme sports medicine".
"A lot of their problems tend to be at the far end of the spectrum.
"There isn't much research into disability sport so you have to use all your knowledge and common sense to try to resolve injuries. It can be a real challenge."
Dr Weiler, a consultant in sports and exercise medicine at University College London Hospitals and lead doctor for disability football at the Football Association in his day job, has been working with the Paralympic football squads for more than six years now.
'Different gait'
He says the problems they get are related to the way they run and their pattern of movement, but there are no text books to refer to when practising this type of medicine.
"Blind and visually-impaired footballers tend to have a different gait to sighted runners. Their heads are flexed more because they are listening for the sound of the ball."
The balls used in this event contains ball bearings which produce a noise when it moves.
Seven-a-side football, which features players with limb control and co-ordination problems when running, creates different injury challenges.
"They all have biomechanical issues. Their muscles are stiffer, their bones develop in a different way and there may be less muscle on one side or both sides of the body.
"The bones tend to be different shapes and they are often positioned differently too," says Dr Weiler.
The complex problems which result require lots of time spent with good physiotherapists and sports massage therapists to help reduce muscle tightness.
'Uniqueness'
During the build-up to the Paralympics, even training plans aren't a simple matter because of the unique needs of individual athletes.
What training might work for an athlete with cerebral palsy may not work for someone with a spinal injury, for example.
Nik Diaper, a physiologist with the English Institute of Sport and head of Paralympic Sport Science and Medicine, says one of the key differences between the Olympics and Paralympics is the uniqueness of Paralympic athletes.
"Even two athletes with the same disability will be different. We try and individualise things as much as we can."
In the very professional world of Paralympic sport, athletes often train alongside Olympic athletes, sharing expertise, know-how, fitness plans and coaches.
Yet knowing how much is too much for disabled athletes is crucial.
"Performance comes first and disability second - but we don't ignore disability," says Mr Diaper.
Quadriplegics or those with spinal cord injuries can lose the ability to sweat and cool down the body naturally, which coaches must be alert to.
If this happens in a hot environment during a tough physical work-out, they can be in danger of overheating.
Support staff
That is why every sport has its own team of support staff including a medic and physio who look after their athletes throughout the four years running up to the Games. There are over 30 people in these roles across all sports working with team GB.
At Paralympics GB headquarters in the athletes' village there is also a core team of 12 practitioners, including doctors, nurses and physios, ready to provide additional support with the athlete's myriad medical and physical needs.
Nurses to help with unique care needs of Paralympic athletes, including bowel and bladder care, form part of the team too.
Physios can find themselves dealing with anything from chronic injuries to skin breakdown around stumps and sore muscles.
By now, at this stage of the Paralympics, all the hard work in the hunt for medals has been done and the emphasis is on making sure nothing goes wrong.
When the action begins the medical support teams have no choice but to take a step back and let the athletes strive to produce the performances of their lives.