Heart failure implant operation trialled in UK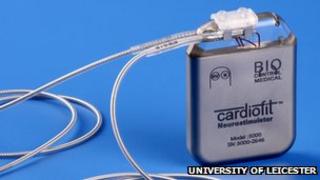 A pioneering operation in Leicester to fit a nerve-stimulating implant in a patient with heart failure has been successful.
Similar to a pacemaker, it was fitted to the vagus nerve, part of the nervous system running between the heart and brain down the right side of the neck.
Researchers hope this will cut the stress on the heart, reducing swelling and improving quality of life.
It has been trialled in 32 European patients, but not in the UK before.
Similar nerve-simulating implants have been trialled in Bristol and Liverpool - but this one is more specific - only targeting signals that go to the heart, and not those that go from the heart to the brain.
Prof Jeremy Pearson, from the British Heart Foundation said: "Heart failure affects more than 750,000 people in the UK alone and we need new ways to tackle this often debilitating condition.
"This new procedure could help patients who are responding poorly to current treatment.
Enlarged heart
"This is the first large trial to test if the treatment really works and we look forward to seeing the results, which may help thousands of people."
Heart failure can be the result of high blood pressure, dead heart muscle after a heart attack, or a genetic condition.
The heart pumps blood around the body, and when it fails to do this properly people can become tired and out of breath far more quickly. For some patients, sitting in an armchair feels like running a marathon.
Clinical trial
As the heart loses its ability to pump, it fills with too much blood and becomes stretched over time. The more the heart enlarges, the worse the symptoms.
Dr Andre Ng, the cardiologist who performed the procedure at Glenfield Hospital, said: "The operation went very well. This is a potentially ground-breaking treatment for desperate patients with heart failure, a serious condition that has increased over the past years in epidemic proportions.
"My University of Leicester research group has been studying the relationship between vagus nerve stimulation and heart function for almost 15 years.
"[This study] could transform heart failure treatment and support the use of the innovative therapy over and above tablets for standard heart failure treatment."
The technique is being trialled in humans after it was shown to keep rats and dogs alive for longer.
Patients who have taken part in the pilot clinical study so far have seen improvements in heart function, resting heart rate and quality of life.
The study will eventually involve more than 600 patients in up to 80 centres worldwide.