Cancer in over 65s predicted to treble by 2040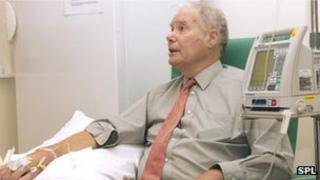 Cancer will become a fact of life for many people over the age of 65, according to researchers and a cancer charity.
They say the number of elderly people who have been diagnosed with the disease will more than treble by 2040, with over one in four being affected.
In 2010, 1.3 million over 65s had cancer. The figure is predicted to reach 4.1m within 30 years.
Macmillan Cancer Support said it was a ticking time bomb for society.
Age is the biggest risk factor for cancer and greater life expectancy is expected to push up rates.
A study by King's College London in the British Journal of Cancer tried to work out how common cancer would be in the future.
Across all age groups it predicted the number of cancer survivors would increase by one million every decade between 2010 and 2040 with largest increase in the over 65s.
One of the researchers, Prof Henrik Møller, said: "The research shows that large increases can be expected in the oldest age groups in the coming decades and with this an increased demand upon health services."
The study's authors concluded: "It is projected that in 2040 almost one quarter of all people in the United Kingdom aged at least 65 years will be cancer survivors.
"This result, in particular, highlights the potential for significant increases in the burden of cancer on health service and community care resources."
However, better treatments or new screening programmes could alter the estimates.
'NHS warning'
Ciaran Devane, the chief executive at Macmillan Cancer Support, described care for older patients as a "ticking time bomb for society" and the study needed to act "as a warning to the NHS".
He added: "We have a moral duty to give people the best chance of beating cancer, regardless of their age.
"For cancer survival to improve, older people must be given the right treatment at the correct level of intensity, together with the practical support to enable them to take it up.
"The barriers to older people getting treatment must be tackled. If we don't get this right now many older people will be dying unnecessarily from cancer in the future."
The Department of Health said was good news that better treatments meant more people were surviving cancer.
A spokesperson added: "From 1 October 2012, it will be unlawful to discriminate in health and social care on the basis of age.
"Adults of all ages will benefit from better access to services and for the first time people will have a legal right to redress from the courts if they are unjustifiably discriminated against because of their age."