Over 40s missing out on heart checks, figures suggest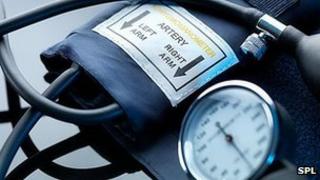 Many people over 40 are not getting the routine heart health check they are entitled to, figures suggest.
Each year GPs in England should be offering health MOTs to 20% of their patients aged 40-74, but latest available data indicates only 14% of those eligible have had one.
GP magazine sent Freedom of Information Act requests to all 151 PCTs in England, of which 118 responded.
A fifth said they would fail to meet the compulsory target in 2012-13.
This means millions of patients may miss out on checks designed to spot potentially fatal conditions, such as heart disease and diabetes.
Missed opportunity
The target became mandatory in April 2012 and PCTs were given three years to prepare for this.
The survey found 1.7 million checks were offered to patients in 2011-12 - 14% of all those eligible.
More than 920,000 checks were carried overall. This is an increase on 2010-11, when 1.1 million checks were offered and 645,000 were conducted.
But two-thirds of PCTs did not provide enough NHS health checks to meet the government's 20% aspirational target in 2011-12, the last year of preparation before the full programme began.
Three PCTs did not provide a single check in 2011-12, with another providing just four checks.
A spokeswoman for NHS Cornwall and Isles of Scilly, which did not provide any checks in 2011-12, said the programme was not prioritised "owing to other pressures".
PCTs are undergoing massive change and are set to be abolished from next year as the NHS is reorganised in its biggest shake-up to date.
At that time, the responsibility will fall to local authorities who will be expected to offer the checks to all eligible patients five yearly.
The data shows patient uptake is falling with only 54% attending a check in 2011-12, down from 60% in 2010-11.
Just 11% of patients in NHS Portsmouth turned up for their check.
Jules Payne, chief executive of Heart UK, said: "This has all the classic ingredients of health inequalities and a postcode lottery for accessing services.
"The study's finding of declining patient uptake may suggest problems with the way in which health checks are being offered. PCTs should be asking themselves questions about how and where health checks are being promoted and explained to their patients.
"We'd like to see a broader range of sites and opportunities to encourage all eligible people to take up their health check, and not just the 'worried well'."
A Department of Health spokeswoman said PCTs should offer the checks to qualifying patients and that PCTs were monitored to ensure they delivered the programme.
Dr Richard Vautrey, deputy chairman of the British Medical Association's GP Committee, blamed a lack of central guidance for the patchy provision.
"It would have been far better to have greater national standards for scheme, and national rates of payment for scheme. This would have led to better cost and clinical effectiveness."
Coronary heart disease is the UK's biggest killer, causing about 94,000 deaths each year. One in five men and one in seven women die from the disease.
In the UK, there are an estimated 2.6 million people living with the condition.