Plain cigarette packs review ends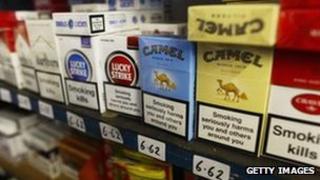 A UK-wide consultation on government plans to introduce mandatory plain packaging for tobacco will close later.
It was extended by a month to allow more people to respond after strong public interest in the issue.
The proposal could mean information about individual brands being removed from cigarette packets, with just the name and warnings visible.
Plain packaging is seen by campaigners as the next step in discouraging young people from taking up smoking.
It could mean every sign of individual brands, from their logo, colour or typeface, being replaced by standard packaging simply carrying warnings and the name of the cigarettes.
Packets are likely to be a dark olive green.
When he launched the consultation four months ago, Health Secretary Andrew Lansley said he wanted tobacco companies to have "no business" in the UK.
Challenged
It comes after a ban on tobacco displays in large shops started earlier this year. Smaller shops will have to follow suit by 2015.
Australia is currently the only country which has agreed to plain packaging, although the policy has been challenged in the courts by manufacturers.
Research published there has suggested that cigarette packets have increasingly become an important marketing tool as restrictions on advertising and sponsorship have been brought in.
Deborah Arnott, chief executive of campaign group Ash, said: "Plain, standardised packaging of its lethal products frightens Big Tobacco silly because it threatens its profits.
"That's why the industry has devoted millions of pounds to put pressure on politicians and prevent the government from going ahead with this measure."
But Simon Clark, director of Forest, a lobby group funded by the tobacco industry, said: "There is no evidence that standardised packaging will have any health benefits.
"Advocates base their arguments not on facts but on speculation."
The government said it would make a decision when the responses to the consultation had been considered.