International travel 'makes athletes ill'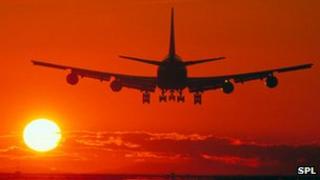 Elite athletes who travel across more than five timezones to compete, more than double their risk of illness, a BJSM study has suggested.
The researchers argue the different germs and allergens of a new environment affect the athletes.
Air travel does not seem to play a part as on returning home the competitors' health does not differ from normal.
They suggest this could contribute to a home advantage for Team GB in the Olympic Games.
Prof Martin Schwellnus, one of the paper's authors said: "It is a common perception that international travel increases illness - due to organisms in aeroplanes."
However, this study suggests that increased illness from travel is more likely to be due to the fact that the person is out of their normal environment.
Prof Schwellnus added: "The stresses of travelling seem not to affect the players because when they return home the risk of illness does not differ from normal.
"Changes in air pollution, temperature, allergens, humidity, altitude as well as different food, germs and culture could all contribute to illness when arriving in a distant destination."
Reported illness
The study tracked the daily health of 259 elite rugby players competing in the 2010 Super 14 Rugby Tournament.
Over 16 weeks, teams from Australia, South Africa and New Zealand played in all three countries.
For matches played on home turf, before international travel, there were 15 reported illnesses in every 1,000 days played.
In locations where players were more than five hours' time difference away from home, this rose to 33 reported illnesses in every 1,000 days played.
For matches played back home after international travel - illness fell to 11 incidents in every 1,000 days played.
Almost a third of all illnesses reported were respiratory conditions, followed by gut problems and skin and soft tissue conditions.
Home advantage
Prof Schwellnus said: "These findings could be relevant to the Olympics and might contribute to a home advantage."
Although Prof Schwellnus also pointed out that this study concentrated on a tournament played from February to May with participation every week - a different environment to the Olympic athletes who generally compete just once.
His research is now looking at which players are more prone to illness as some were more likely than others to become ill. He said: "It is a player thing, with certain people being particularly sensitive to a new environment, rather than a travel thing."
Other factors that have been shown to work in the home teams' favour are familiar surroundings and the backing of the crowd. But there are also factors that can have a negative impact like increased pressure and expectation and worries about letting people down.