Why stillbirth remains a mystery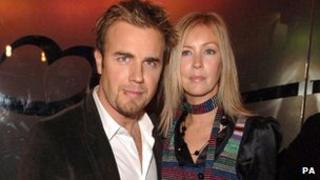 The fourth child of Gary Barlow and his wife Dawn has been delivered stillborn.
The couple have said they are "devastated" after the birth of Poppy on Saturday.
But the Barlows are far from alone in suffering such a tragic experience.
Stillbirth rates in the UK are higher than almost every other high-income country.
There are over 4,000 stillbirths every year in the UK - the equivalent of 11 per day.
That equates to 3.5 per 1,000 births which, according to a Lancet study last year, means only France and Austria had worst rates among richer nations.
Lack of research
Dr Beckie Lang, from baby charity Tommy's says: "Losing a baby at any stage is devastating, and every parent's worst nightmare. The most frequently asked question after the loss of a baby is 'Why did my baby die?"
"As the cause of a baby's death is often a mystery, no explanation can be given to the bereaved parents, which makes the grieving process so much harder.
"If we don't understand what causes stillbirth, we cannot get to the root of the problem - and this is why medical research in to finding the causes and preventions of stillbirth remains so vital."
However, despite years of research there is still much which remains unknown about the issue.
While problems with the placenta, which can affect the growth of the foetus, infections and congential abnormalities are all known causes of stillbirths, for a third of cases there is no known reason.
There are also risk factors which can increase the risk of stillbirth. Smoking and drinking during pregnancy can increase susceptibility, as can being overweight or obese, or having children later in life.
Previous caesarean sections can also increase risk, as can multiple births.
No money
Janet Scott, head of research at Sands, a stillbirth charity, says: "There is still a lack of knowledge on why deaths are happening.
"For those that are unexplained or occurring in low risk pregnancies it is probably down to placenta cord development - but we need to understand this better and develop tools to spot babies in trouble.
"There are many researchers with ideas for different approaches, but there is a dearth of funding."
This is also echoed by Prof Andy Shennan, a consultant obstetrician for Tommy's.
"Personally I think the amount of money going into preventions strategies for stillbirth, given the devastation it causes, is exceptionally low.
"Especially when compared to public health research in areas like cancer and cardiovascular disease, which for obvious reasons get a lot of support and are talked about."
Taboo subject
Stillbirth is not something that gets talked about.
Prof Shennan says: "The subject is terribly taboo - I think because of the emotions from expectation at a very wonderful time to devastation, from one extreme to the other.
"I also think mothers incorrectly feel they have failed, or done something wrong. In my hospital we have dedicated rooms downstairs for dead babies which are almost permanently in use. It is a real issue - one people are surprised to hear about - it therefore gets less support and mothers aren't aware of the risks."