Young with eating disorders 'missing out on vital help'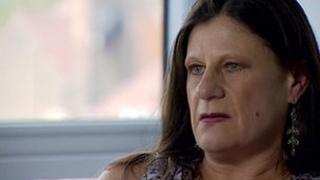 Eating disorders in children are not being taken seriously enough, depriving them of vital treatment, a leading expert has told BBC Newsnight.
Professor Bryan Lask said he is seeing ever younger patients, with increasing numbers becoming ill under age 10.
His pioneering research suggests a strong genetic predisposition to anorexia, which experts say needs to be tackled through early intervention.
New figures reveal eating disorders cost the NHS £1.26bn a year in England.
Specialists have reported that cutbacks in health spending are putting pressure on specialist services, with patients becoming sicker while they wait for admission.
Genetic link
Anorexia is recognised as the most deadly of all psychiatric illnesses, killing more people than alcohol and drug addiction and depression.
The outcome for patients remains very poor - only half the people who get it will recover.
New understanding of the disease is coming from research led by Prof Lask, who set up the eating disorders unit at Great Ormond Street Hospital.
His team have been researching a tiny part of the brain, the insula, which photo imaging technology shows to be underactive in people with anorexia.
"We are suspecting that there is an abnormality in the insula, it is not quite working properly and... there's a knock on effect around the body," he told Newsnight.
Prof Lask believes his work shows there is a genetic pre-disposition to getting anorexia which should transform attitudes to the illness.
"For so long people thought that this is essentially middle class girls getting it. But it's not like that at all. It's an illness we do not choose to get," he says.
"This is a much more serious disease than was previously understood."
'Revolving door treatment'
Rosemary Marston was severely ill with anorexia for 30 years.
As a teenager she was a high achiever and insisted on the exacting standards commonly associated with the illness.
"I think I was very good at being anorexic, losing weight, that was my drive... just as some people are successful at sport, I was that dedicated to being ill," she says.
This dedication is one reason why anorexia is so difficult to treat.
Another is the painstakingly long process of recovery. Rosemary describes her experience as a "revolving door situation".
"I would go into hospital, my weight would be restored, I would leave feeling not much better about my prospects and end up back in hospital.
"I worked out that in the last 20 years of the illness, I spent 18 years as an inpatient."
Root causes
Prof Lask believes one problem is that treatment focuses on restoring weight and not tackling the underlying issues:
"The focus is so much on re-feeding and weight restoration."
"We are struggling with the idea that once their weight is restored they're cured. It's nonsense. They're not at all," he says.
Care UK, a private company, runs a number of specialised services for people of all ages with eating disorders.
Martin Davies, who runs the service, says pressures on NHS budgets mean people are not getting the treatment they need. He thinks the root causes of the disease are not being tackled:
"We're addressing the symptoms quite effectively, but we're doing so over and over again and in turn that will mean that a certain percentage of those cases will keep coming back," he says.
"I think that actually a well-intended strategy to keep people out of hospital will actually lead to more chronic and severe and enduring cases," he adds.
Osteoporosis at 18
As many patients and their families know, accessing specialised services is not easy.
The parents of Ffion Jones, from Camarthenshire, had to campaign to get funding for the specialised treatment she needed.
She is now being treated at a centre run by the Oxford Health Trust.
Her room, which has been home since last March, is covered with art work containing motivational messages which she hopes will help her recovery. One reads: "Don't make excuses, make improvements."
Ffion became ill when she was 11 years old. She says that was the last time she had a birthday cake.
Now 22, Ffion hopes to study psychiatric nursing at university. But she says she will not escape some of the devastating consequences of malnutrition.
"I have a lot of long-term complications which I was quite naive about and didn't really want to acknowledge as part of the illness.
"I was diagnosed with osteoporosis when I was 18. I had a scan last week which showed I might have a curved back, where two of my vertebrae are crumbling. I'm not sure if I'll get to have children or not."
A new study by the eating disorder charity Beat reveals the financial cost of eating disorders, especially among young people.
Most cases start in adolescence, affecting seven in 1,000 girls, and one in 1,000 boys.
In England, it costs a minimum of £1.26bn a year - and in line with mental health issues generally, this figure is expected to double over the next 20 years.
Early intervention
While the numbers affected by anorexia remain stable, researchers and clinicians have told the BBC that the age of patients is getting younger, and they are seeing more sick children under the age of 10.
They say this makes the early intervention of specialised treatment even more urgent.
It has taken her decades, but Rosemary feels she has beaten anorexia. She now works as a mentor for others with eating disorders.
"The last two years has been about making use of what I could look back on as a futile period of my life. I'm not willing to do that.
"I invested a lot in anorexia, it nearly killed me... If all I can do is offer the hope about being recovered then I will."
For details of organisations which offer advice and support, go online to bbc.co.uk/actionline or call the BBC Action Line to hear recorded information on 08000 933 193. Lines are open 24 hours and are free from a landline. Mobile operators will charge.
Watch Liz MacKean's full report on Anorexia on Tuesday 31 July at 2230BST on BBC Two. Or watch afterwards on BBC iPlayer and the Newsnight website.