Call for national system for monitoring vital signs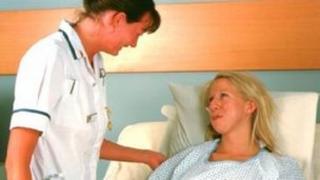 The way vital signs such as blood pressure and temperature are monitored in hospitals needs to be standardised across the NHS, experts say.
Currently over 100 different models are used, causing confusion and sometimes delays in patients getting help.
A joint group of senior doctors and nurses said moving to a national system would save thousands of lives a year.
The group, with the backing of NHS leaders, has put forward a system it wants adopted in the UK within a year.
The scheme - called the National Early Warning Score - has been drawn up by the royal colleges of physicians and nursing after reviewing many of the bedside chart models being used across the NHS.
It is based on a scoring system for six measures - respiratory rate, oxygen levels, temperature, blood pressure, pulse rate and level of consciousness.
The chart, which is also colour coded, is then used to determine if a patient needs further assessment and potentially admitting to critical care.
Save lives
The royal colleges said it could halve the number of avoidable deaths in hospitals, which would mean about 6,000 lives a year being saved.
Prof Bryan Williams, chair of the working party which drew up the new system, said it would mean that as staff move around the health service they would not need training and help getting used to new ways of working.
He added: "It has the potential to transform patient safety in our hospitals and improve outcomes, it is hugely important."
While it is not compulsory that hospitals adopt the system, Prof Williams said as it had the backing of the two royal colleges as well as the Department of Health he hoped the NHS would embrace it over the next 12 months.
He also wants to see it used outside hospitals, for example when GPs and ambulance crews are assessing whether patients need to be transferred to hospital.
The system will not apply to the care of pregnant women and children under 16.
Prof Sir Bruce Keogh, the medical director of the NHS in England, gave the initiative his backing, saying catching deterioration in the early stages would lead to "huge improvements".
Katherine Murphy, chief executive of the Patients Association, said the national system should be introduced "urgently".
"The public will be shocked to learn that the NHS has been operating such an ad hoc system.
"It is therefore no surprise that the experience and outcome for so many patients is a negative one."