The scientists and engineers behind Olympic Team GB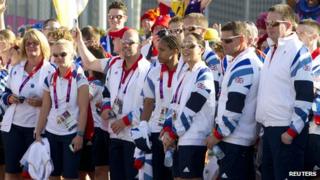 We expect our athletes to be almost superhuman. But what is it that sets them apart? Is their excellence down to the technology that now surrounds them or is it innate?
Certainly performance analysts say the science and technology behind Team GB's athletes plays a vital part.
Performance across many sports is reaching a peak, so winning depends on the smallest of margins. The difference between a gold and a silver medal can be a few hundredths of a second.
Sheffield Hallam University head of sports engineering, Prof Steve Haake says: "If you look back at performance data, you can see interventions that are common to all sports - the World Wars decimated sport, for example.
"From 1948, the last London Olympics, onwards, the kind of things you see are new designs for things like goggles and hats in swimming in the 1970s.
"Then [there is] the advent of new materials in the 1980s, such as carbon-fibre bikes and helmets."
But for the 2012 Olympics, the biggest change by far, he says, has been the introduction of mobile technology, smart-phones and tablet computers that have a camera built in and are incredibly quick and simple to use.
"Now we can get down to the track, and down to the poolside, and measure an athlete in situ, and give instant feedback to a coach. That way the athlete can go back straight away, and do it again - only better," says Prof Haake.
Team GB athletes have also had access to some of the UK's leading technology companies.
Live measurement of Formula 1 cars during a race, on tyre or engine performance or the driver's physiology, means teams can make almost instantaneous decisions about tactics.
And engineers at F1 manufacturer McLaren's technology centre in Woking have been signed up to help Team GB.
UK Sport head of research and innovation, Dr Scott Drawer, says the technology, which enables the daily monitoring of athletes in their training environment, as opposed to a lab, has helped to "better understand individuals and to better intervene so that they can develop much more effectively."
"It's really all about data," says Dr Drawer.
Data mining
I caught up with some of the Team GB swimmers in Sheffield last month.
This was the second round of trials for British swimmers, and their last chance to qualify for the London Olympics, with 37 places already filled and only 15 left to compete for.
Their teams had access to more than a million pieces of data on hand-held devices at the poolside, from thousands of races by swimmers from some 60 nations.
With so much information in one place, they can begin to mine that data to find out how their performances compare with rivals, or over the years.
I saw Stacey Tadd, who had already earned her place at the London Olympics, being watched by her performance team, keen to feed back some last-minute tweaks.
Ten days later, in Loughborough, the British Olympic swimming team was in lockdown.
I met Craig Benson, world junior champion for 100m breaststroke, and his coach, Laurel Bailey, working on his weak points.
This time they had help from scientists from the University of Southampton, poolside.
They were measuring his speed through the water and the force of his dives and turns, feeding this back to him straight away, while the memory was still fresh enough that he could still almost feel the movements still, in his body.
So much for the technology, but is there something else, something innate, that makes an elite performer?
One team of scientists, working with Team GB, has been studying genes and sporting performance, since the late 1990s.
Director of the Institute for Human Health and Performance at University College London, Prof Hugh Montgomery, has carried out groundbreaking work on genes and fitness, most notably the "ACE" gene, thought to be linked to endurance.
He says genes clearly count, but they are not the whole story, and factors such as diet and training are also important.
Prof Montgomery is now working on genetic tests to try to understand why some athletes are prone to injury.
Tendon injuries and stress fractures in bones are common in elite athletes, but how they happen, and why is less clear.
Diet, repetitive strain and loading are all known to play a part, and scientists say there is clearly a strong genetic element.
"We have identified one gene that we think strongly influences the risk of stress fracture, which we hopefully will be publishing on this year, but there will be many more to come," says Prof Montgomery.
He is working closely with the English Institute of Sport, which aims to apply the latest in sports science and medicine for the benefit of Britain's Olympic and Paralympic athletes.
Its director of sport science, Dr Ken van Someren, says he is keen to apply the latest genetics discoveries.
"If we can identify some particular genes that are associated with a higher risk of injury in certain individuals, and we think we're close, we can tailor the training, conditioning and preparation that we put those individuals through.
"And of course we can better inform the medical treatment they receive, should that injury occur."
But Dr Van Someren adds there is no intention to use genes as a means of selection, not least because he thinks it probably would not work.
He says although genes might tell us about the probability of success, it is not an exact science and "we could be missing out on some future champions."
Watch Susan Watts' report The Sporting Edge Thursday 26 July at 22:30 BST on BBC Two. Or afterwards on BBC iPlayer or the Newsnight website.