Very old 'missing out on basic heart care'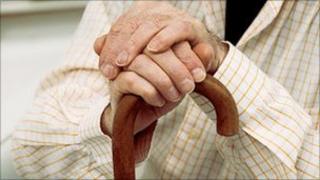 The elderly are missing out on simple heart treatments that could prolong and improve their lives, a study suggests.
Newcastle University found a quarter of 87- to 89-year-olds had an undiagnosed heart problem, in tests on 300 people.
The Department of Health said it was developing a strategy to better identify and treat heart diseases.
The researchers said drugs were available to treat the condition, which could save the NHS money by reducing expensive hospital visits.
They warned that prescribing them would have to be done carefully, as the side effects could sometimes outweigh the benefits.
But they suggested that as it was such a common problem, it could be practical to offer those above the age of 85 suffering breathlessness a heart scan at home to improve diagnosis rates.
The Department of Health said there had been a 40% reduction in cardiovascular disease over the last decade but added that "more must be done".
It said: "We are currently developing a cardiovascular disease strategy which will consider how we better identify and treat heart diseases for people of all ages, including older people.
"NICE has recently published a quality standard on heart failure, which defines the best clinical practice for this service."
Activities limited
The study, published in the journal Heart, warned unless the issue was tackled now it could become more of a problem, with the number of elderly people expected to rise.
Drugs such as beta blockers and ACE inhibitors could be effective at treating the problem, the researchers added.
Lead researcher Prof Bernard Keavney said: "We were surprised to discover just how many older people have heart problems.
"Many of these people could be treated with drugs that we know work, if their condition were recognised.
"This would improve their quality of life and it's likely to slow their progression to heart failure."
Dr Shannon Amoils, of the British Heart Foundation, which funded the study, agreed more could be done for these elderly people.
"This study suggests that there are probably many more very elderly people in the community with heart problems than we previously supposed and many have symptoms like breathlessness that limit their daily activities."
The research is just the latest in a series of studies done by Newcastle University looking at the challenges presented by the ageing population.