How is Bradley Wiggins different from the average man?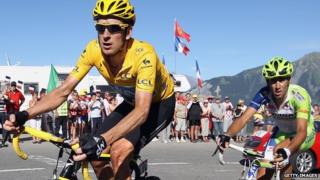 The final leg of Bradley Wiggins's Tour de France victory, through the streets of Paris, seemed a relatively gentle end to a gruelling 3,497km (2,172-mile) race.
Being able to ride that distance in three weeks, including punishing mountain climbs at altitudes that would leave most people gasping for air, is beyond the reach of all but the most highly trained endurance athletes.
The two main physiological differences between an elite endurance athlete like Wiggins and the average person are a bigger heart - which allows more oxygen-rich blood to be pumped to the muscles - and the muscles' capability to use that oxygen, said Loughborough University's Dr Keith Tolfrey.
Both heart size and oxygen utilisation by muscles can be improved with training.
The heart is made up of four chambers. The two lower chambers are called ventricles and are the pumps of the heart. The left ventricle pushes blood out from the heart to the rest of the body.
Dr Tolfrey said endurance athletes like Wiggins are likely to have huge left ventricles.
He said supplying blood to the muscles during exercise was like trying to fill a bath with containers of water.
Most people are trying to fill that bath up with a container the size of a thimble, whereas for highly trained athletes like Wiggins, who have bigger hearts, it is like using a bucket.
One of the signs of a highly trained heart is a person's resting heart rate. Both athletes and people of average fitness require a similar amount of oxygen to be delivered to organs and muscles while at rest, said Dr Tolfrey.
The normal amount the heart needs to work while a person is resting is 70 beats per minute, but to do the same job in endurance athletes, the body typically only needs 40 beats per minute.
The cyclist Miguel Indurain was reported to have a resting heart rate of just 28 beats per minute.
'Tenacity and desire'
Former British cyclist Chris Boardman said he had a resting heart rate of 38 at his peak. He won three stages of the Tour De France during his career, sometimes cycling up to eight hours non-stop to train.
"If you want it enough and apply yourself the right way, I think you can get to podium level on just sheer tenacity and desire," Boardman said.
"Once you get to podium level, those people have that and the only thing that sets you apart is what you're born with naturally. So you can get to the top just on desire and aptitude, then the difference becomes genetic."
Being able to actually use the oxygen when it reaches the muscle is mainly down to the amount of mitochondria in the cells.
Mitochondria are like the muscle's battery, the powerhouse producing the energy a muscle needs.
"All of us can actually improve that side of our body, and we can improve the functioning of the heart as well," Dr Tolfrey said.
"It's just that most of us mere mortals can't improve it to the extent that Bradley Wiggins has."
A person's endurance potential can be measured by taking a VO2 max reading, which shows how much oxygen is used per minute for every kilogram of body weight.
A typical male of Wiggins's age who does not do much training would be likely to have a VO2 max between 35 and 45.
Dr Tolfrey said Wiggins was likely to have a value above 70, possibly even as high as 80, which is a "huge difference".
Not only are elite athletes able to use more oxygen, they can also do it for longer periods of time.
Prof Jose Gonzalez-Alonso of Brunel University said there was evidence the adaptations associated with endurance training also affected the brain and nervous system.
"The perception that you feel you are tired is not only accompanied by limitations in oxygen delivery to muscles, but also to the brain," he said.
"So it's possible that when you are very well trained that in a way you delay impairment of oxygen delivery to the brain."
As well as his endurance, Wiggins's power of recovery will be tested when, only weeks after his Tour de France victory, he tries to follow it up with Olympic glory at the London Games.
He is aiming for a fourth Olympic gold medal, which would help cement his place among the greatest endurance athletes Britain has ever produced.