Is there a future for luxury care homes?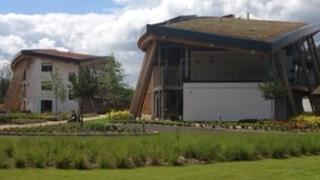 The not-for-profit group Anchor, best known for its sheltered housing, is opening a luxury care home. The charity believes it marks the start of a new model of care for the baby boomer generation. But with doubts remaining about the future prospects for sector will the approach take off?
Set in five acres of Surrey greenbelt, West Hall is not the average care home.
The £30m development has 117 en-suite rooms, a hair salon, a library, landscaped gardens and a private dining room for special occasions.
The accommodation is housed in three separate purpose-built buildings, known as "clusters", while many of the communal facilities are situated in a listed manor house.
The rooms are all equipped with sensors which alert staff if someone has fallen or stopped moving and each area in the clusters is coloured differently to help those with advanced dementia recognise their living areas.
But what also marks the centre out is the level of training everyone has. There is a 12-week induction that covers dementia care which all staff, from the care professionals to the handyman, complete.
Property-rich generation
Emma Laming, one of the care professionals who will be working at the home when it opens at the end of July, says: "What really sets this apart is how the care and services are designed around the individual.
"In other places I have worked there are set times for getting up, set times for eating, but here the customer decides.
"The level of training we have had and the staffing ratios - it is one carer to five here compared to one to eight or even 12 in other places - makes a difference. It means we can care for the customers in the way we want."
Of course, places at the home do not come cheap. At £1,425 a week it is beyond the reach of those receiving council funding as well as many self-funders.
But with the baby boomer, property-rich generation now reaching retirement age the care sector believes there is demand for high-end services.
Jane Ashcroft, chief executive of Anchor and head of the English Community Care Association, says: "They have higher expectations, they have grown up in a world with all the mod cons and been to hotel rooms with all the modern facilities.
"They will demand that for themselves and also their parents who are in the system now. It is about offering a wide range of services to cater for everyone's needs."
But West Hall was only built because Anchor could largely finance it itself through its reserves.
And with uncertainty surrounding the sector, and getting lending from banks still proving tricky, Ms Ashcroft believes the care sector could struggle to keep pace with demand.
Earlier this month the government unveiled its social care white paper but the most important issue - funding - was left hanging.
Ms Ashcroft says: "I think there was some good stuff, but I was disappointed by the position on funding. We have the strongest consensus I have ever experienced, but no action.
"The commitment to the idea of a cap without any plan on how that will happen is quite damaging.
"On micro level it leaves people in limbo and that is quite dangerous. I think we will find people waiting to see what happens when they need support now
"And on a macro level, looking across the sector, I think it makes it more difficult for people who want to access the funds to support that investment so it creates uncertainty.
"What we do know is there is more demand for good care services. But there is a risk that the half-way house we have - that there might be some jam coming but it is a little way off - is a little unhelpful for people who want to invest in new services."