BMA lifts threat of industrial action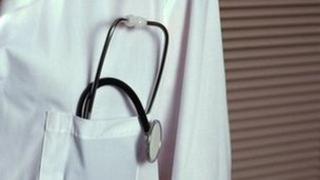 Doctors' leaders have lifted the threat of industrial action to re-enter talks with the government in their dispute over pension changes.
The British Medical Association announced its decision after a meeting of its leaders on Thursday.
It means the BMA will join other health unions in debating some of the details of the changes which are being made to the NHS scheme.
It comes a month after doctors across the UK boycotted non-urgent care.
The industrial action on 21 June led to thousands of non-emergency operations, such as knee and hip replacements, being cancelled and appointments at hospitals and GP surgeries being disrupted.
The row is over the government's plan to reform the NHS pension, which will mean higher earners like doctors having to contribute more and work for longer.
'Unfair'
The BMA has argued doctors are being unfairly singled out as their contributions will rise more than other public sector workers.
The government is already in talks with other health unions, but has been insistent that it would not negotiate with the BMA while they were still threatening industrial action.
The BBC understands ministers are willing to negotiate on two issues - the speed at which the increased contributions are introduced and the sort of work doctors will be expected to do at the end of their careers.
The BMA would now have to re-ballot its members if it wanted to take further industrial action.
The decision comes despite delegates at the union's annual conference calling for more action when they met last month.
Dr Mark Porter, chairman of the BMA, said: "We always said that we would review our action in order to determine next steps.
"Having done that, it is clear that only escalated action has any possibility of causing the government to rethink its whole programme of changes.
"The BMA and the profession as a whole are unwilling to do that at this point because of the impact on patients."
He said in particular the union would be focusing its attention on the proposal to increase the retirement age to 68.
Doctors, along with other health workers, have said the demanding nature of the NHS means working until that age would not be safe for patients.
Dean Royles, director of the NHS Employers, which represents health managers, said: "The NHS will breathe a sigh of relief that there will be no more industrial action for the moment.
"We hope we can use this time constructively."
A Department of Health spokeswoman said the government was looking forward to working with the BMA on the changes.