£20m donation to 'harness immune system' against cancer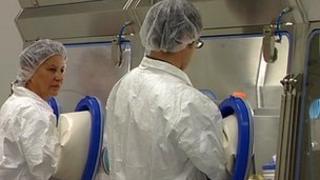 A donor, who wishes to remain anonymous, has given £20m to fund cancer immunology in the UK, BBC's Newsnight has learnt.
Harnessing the immune system is seen as a promising new area of treatment, but raising funding has become harder.
The money will be equally split between the Francis Crick Institute for medical research and University of Southampton.
The £10m for the Institute is the largest single donation ever received by Cancer Research UK.
That money is part of a £100m campaign by Cancer Research UK to help support the Francis Crick institute, which is currently under construction in central London and is due to be completed in 2015.
Director of the Francis Crick Institute, Sir Paul Nurse, said the gift would help to bring together some of the world's best scientists for the "benefit of us all."
Patient benefits
Cancer immunotherapy aims to target the power of the body's immune system against tumours and has shown increasing promise in the last two years.
But traditional sources of funding such as venture capitalists, charities and government have become harder to secure, with global financial systems feeling the squeeze.
Scientists fear the UK risks losing its place as a world leader in immunology research, unless more financial support can be found. They say it is needed to ensure promising research is supported from the outset, continuing through small and large-scale clinical trials, and on to commercialisation and treatments for patients.
Newsnight was told the money for the University of Southampton will help to build a cancer immunology centre, also due to open in 2015.
It will be linked to the Francis Crick Institute with the aim of speeding up the process of turning the Institute's discoveries into tangible benefits for patients.
Separately, the Head of the Institute of Cancer Research, Prof Paul Workman, said although there was a great deal to be excited about in the latest cancer research, much of it was struggling to get beyond the laboratory.
"Right now we've got a combination of the most exciting science and the most frustrating financial situation.
"We've got the cancer genome, we've got immune approaches. We've got incredible science and incredible ideas and we can't fund it."
He added that partnerships between industry, the government and non-profit organisations - charities and philanthropy - are helping to provide a bridge between science and pharmaceutical development but more needs to be done.
Watch Susan Watts' report on the promise of immunotherapy in cancer and the funding "crunch" on Newsnight tonight at 10.30pm on BBC Two. Or afterwards on BBC iPlayer or the Newsnight website.