Dramatic fall in research using monkeys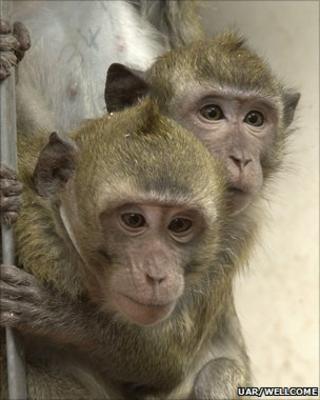 There has been a dramatic fall in the use of monkeys in animal research according to the Home Office.
Annual statistics show that the number of "procedures" on non-human primates fell by 47% in 2011.
But overall the number of animal experiments increased by 2% to just over 3.79 million - up by 68,100. Seven out of ten involved mice.
"Procedures" can include scans, taking blood samples, modifying diet, testing vaccines and cancer drugs.
Breeding to produce genetically modified (GM) animals and harmful mutants (animals with genetic defects) accounted for 1.6 million procedures.
There were increases in the numbers of procedures for several animals, including fish, which rose 15%, up from 490,944 procedures in 2010 to 563,903 procedures in 2011.
One of the highest percentage increases for any species was in cats, with a 26% rise (235 procedures, up from 187). The majority of these involved veterinary studies to try to improve the health of cats.
There were falls for other species including rats (down 11% from 305,139 procedures in 2010, to 271,535 in 2011), guinea pigs (down 16% from 13,660 to 11,537) and dogs (down 21% from 5,782 to 4,552).
But the most significant reduction was in the number of procedures performed on non-human primates. The use of new world monkeys (marmosets and tamarins) fell from 1,103 procedures in 2010 to 351 in 2011 and old world monkeys (macaques) by 41%, from 3,585 to 2,124.
Last year an independent review of the use of monkeys in UK medical research said the practice should continue and found the work to be generally of good quality. But it said a small minority had no clear scientific, medical or social benefits.
It is unclear why there was a fall in the number of procedures involving primates. All animal research attracts controversy but none more so than that involving primates, because of their close evolutionary link to humans. Research on great Apes including gorillas and chimpanzees is banned in the UK.
Home Office Minister Lynne Featherstone said: "The report shows the important work being done in the country to regulate animal procedures and to ensure the UK's high standards of animal protection are upheld."
Sir Mark Walport, Director of the Wellcome Trust, said: "The increase in the total number of animals… is mainly due to the breeding of mice and fish, and is not a good indicator of the great efforts going into reducing, refining and replacing animals in research."
The British Union for the Abolition of Vivisection (BUAV) said it was appalled by the figures.
Chief Executive, Michelle Thew said: "As a nation of animal lovers, the UK should be leading the way in reducing animal testing. Unfortunately, these latest statistics show that the trend is actually going in the opposite direction."
Prof Fran Balkwill, Chair of Understanding Animal Research, said: "Animal research is conducted for the benefit of humans and animals alike, and we have made great strides in the past few years towards preventing or treating diseases that would have seemed incurable even a decade ago. We hope to see, in the coming years, further decreases in the number of dogs, cats and primates used, in line with efforts towards reduction, refinement and replacement of animals in research advocated by scientists and overseen by NC3Rs (the National Centre for the Replacement, Refinement and Reduction of Animals in Research)."