Ex-smokers 'gain more weight than thought'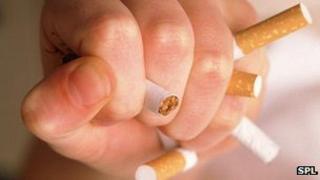 The average weight gain associated with giving up smoking is much higher than previously thought, experts have found.
People can expect to put on up to 5kg (11lb) within a year of quitting, research published on bmj.com suggests.
This is more than the typical 3kg often quoted in advice leaflets and the 2.3kg many women smokers say they would be willing to tolerate in order to quit.
But the health benefits of giving up smoking far outweigh what is still a "modest" gain, say experts.
The research, based on results from 62 studies, found that former smokers gained an average of 4.67kg in the 12 months after they quit.
Most of the excess weight was gained during the first three months.
But the changes in body weight varied widely from person to person. About 16% of quitters lost weight, while 13% gained more than 10kg.
Whether the individual used nicotine replacement therapy, such as patches or gum, made no difference in terms of weight.
Weight gain 'deterrent'
The UK and French researchers who carried out the review say their findings are important because if people who are trying to quit have unrealistic expectations they may be more likely to fail in their attempt.
"Weight gain is important because weight concern is widespread among smokers and could deter some from trying to quit."
In an accompanying editorial, Prof Esteve Fernandez, of the University of Barcelona, and Prof Simon Chapman, of the University of Sydney, point out that past studies have also shown that many smokers gain more weight than "never smokers" for a few years, but then the rate of weight gain falls to that seen in people who have never smoked.
And they conclude: "Although obesity is positively associated with an increased risk of all cause mortality, cohort studies indicate that modest weight gain does not increase the risk of death - smoking does."
NHS advice on giving up smoking says: "When you go smoke-free, your appetite and sense of taste may improve, tempting you to snack more often. Make sure you have plenty of healthy snacks, like fruit or nuts, in the house and hide the crisps!
"Any weight gain need only be temporary. Once you've stopped smoking, you'll find it easier to be active and lose any extra weight."
A Department of Health spokeswoman said: "The health benefits of quitting are well recognised. Each year smoking accounts for over 100,000 deaths in the UK and one in two long-term smokers will die prematurely from a smoking-related disease.
"Getting support from nicotine replacement therapies or medication and the NHS Smokefree service can help in keeping down your weight."