Probe into 25 deaths after trust admits 'poor records'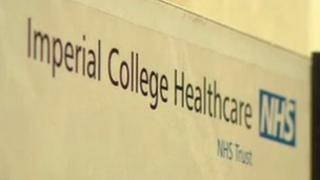 The deaths of 25 patients are under review by one of the UK's biggest NHS trusts, after it admitted "poor record keeping".
Westminster and two other London local authorities have expressed "extreme concern" about lost data on referrals at Imperial College Healthcare.
BBC News understands Imperial is still unaware of the outcomes of 86 patients who were referred for cancer tests.
The trust says it does not believe any patient has come to serious harm.
Imperial, which runs four big hospitals in London, has however admitted that patients may have faced "discomfort, worry and possible deterioration as a result of a delay".
In an unprecedented move, the trust was allowed to suspend the reporting of its waiting times for planned operations and diagnostic tests to the government for the first six months of this year.
Waiting longer
The trust has been unable to make contact with 86 people who were referred for a possible cancer diagnosis.
It made efforts to trace 87 patients, through GPs and by sending letters by recorded delivery to the last available address.
Seven letters were returned undelivered and just one patient contacted the hospital to be seen directly.
And at the height of the problems in February, around 3,500 patients were waiting longer than the 18-week NHS target for treatment or operations. Currently the figure stands at 1,600.
Some of these patients - and some of the suspected cancer cases - were recorded as having been on the waiting list since 2009.
So far, 74 deaths have come under the spotlight. A review group is satisfied that 49 were unrelated to any problems caused by delayed treatment.
In a joint letter, Westminster, Hammersmith and Fulham, and Kensington and Chelsea Councils complained to the trust about its handling of the problem.
The letter said: "It seems to us there could be a possibility of clinical harm as a result of delays in the diagnosis and commencement of treatment arising from the trust's failings.
"We are unhappy that the trust appears to have responded to the scrutiny function of local authorities with a lack of openness and transparency."
Westminster Council's scrutiny committee will question Imperial's interim chief executive, Mark Davies, at a meeting on Thursday night.
An NHS source described the discovery of such long-waiting patients as "dynamite" and "appalling".
The source said: "I would be surprised if there were not similar scandals waiting to be uncovered at other London hospitals.
"London has problems because that is where so many of the long-waiters and financial problems are."
'Extremely sorry'
Imperial has blamed issues arising from multiple computer and record-keeping systems.
A spokeswoman said: "To date we have found no evidence that these patients have come to clinical harm as a result of our poor record keeping.
"We are extremely sorry that this situation was not identified and resolved earlier."
In a letter responding to the councils, the trust's chairman, Sir Richard Sykes, said: "The safety of our patients is an absolute priority.
"We have been handling this in an open and transparent manner. We did not want to raise undue concerns for people when the issue was actually with our data collection."
In a statement, the Care Quality Commission said it would continue to monitor the trust closely "to make sure that it complies with the essential standards of treatment and care that people are legally entitled to expect".