Royal Brompton Hospital will stop child heart surgery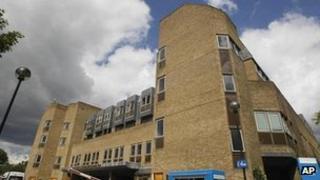 The Royal Brompton Hospital in west London is to stop performing children's heart surgery, it has been confirmed.
Managers there, who lost a legal challenge to keep the unit open, had claimed closing it could put the entire hospital at risk.
But a review found closing it would let the NHS to concentrate on paediatric cardiac surgery at the Evelina and Great Ormond Street hospitals.
The Chelsea hospital will carry out diagnoses and non-surgical procedures.
It had argued consultations around the streamlining of paediatric heart surgery services in England were unlawful and that the closure of its child surgery unit would be "bureaucratic vandalism".
But the Court of Appeal ruled in April that the consultation by the Joint Committee of Primary Care Trusts (JCPCT) was fair.
Expertise 'spread thinly'
Following the announcement that they are to close, Bob Bell, chief executive of the Royal Brompton & Harefield NHS Foundation Trust, said: "It is very difficult to know what to say at times like these.
"But it is even more difficult to try and understand how this committee could have come to such a decision.
"We have seen respiratory charities, independent clinicians from around the world and many anxious parents highlighting the damaging effects if Royal Brompton's unit is closed."
He continued: "I will now discuss this decision with the trust's board and governors to determine our next steps.
"One thing is certain - I will not be asking them for the mandate to manage the destruction of a highly valued and respected children's unit."
The NHS review was carried out amid fears expertise was spread too thinly, and has already concluded surgery should be concentrated on fewer sites.
Professor Sir Ian Kennedy, who led the report, said: "The aim is to concentrate surgery in larger, fewer centres as part of a wider network of services. It is the case now that we have mediocrity in our surgical centres rather than excellence across the board.
"None of the centres are unsafe but the system of surgery as we currently have it is not sustainable to the point where it can become a series of excellent centres throughout the country."