Nursing and midwives' regulator 'failing' patients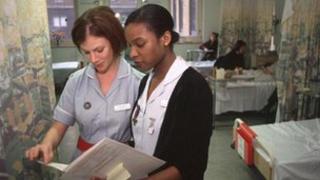 Failings "at every level" of the Nursing and Midwifery Council (NMC) mean it is letting down patients in its prime duty to protect them, says a report.
The UK's 670,000 nurses and midwives have to register with the troubled regulator to enable them to work.
The independent review gives details of the NMC's backlog of complaints against nurses and midwives.
The council apologised for what it admitted were "substantial failings".
The review by the Council for Healthcare Regulatory Excellence (CHRE) revealed the NMC had an annual staff turnover rate of 31%.
Almost 4,500 cases are awaiting a decision by the regulator - and of those, about 1,000 have yet to be allocated a hearing date.
Some cases that are still active and concern whether an individual nurse or midwife is fit to practise contain allegations of the mistreatment of patients dating back as far as 2005.
The NMC is currently holding 15 hearings a day and this will move to 18 from September in an effort to speed up the process.
Troubled past
CHRE chief executive Harry Cayton said the council "has been under-investing in fitness-to-practise cases, relative to the number it receives and their complexity.
"The public have been let down. It doesn't mean nursing is unsafe - but the public, nurses and midwives ought to feel confident in the regulator. They haven't been able to.
"Significant delay in managing fitness to practise cases in itself introduces risks.
"The NMC is fulfilling its functions, but not to the standard or quality that the public have a right to expect.
"The regulator must finally leave its troubled past behind. New leaders must be appointed who are competent, credible and capable of addressing its very serious organisational problems."
The report contains 14 recommendations. Among them, the NMC is told to improve its culture of "resigned resilience", which has seen staff either leave rapidly or become resigned to accepting poor standards.
A new NMC chairman and chief executive are currently being sought.
The regulator's interim chief executive, Jackie Smith, said: "The report highlights substantial failings. We recognise these and we are sorry.
"It is clear the NMC has not delivered effective and efficient regulation. We are committed to putting that right."
'Bailout'
Unions representing nurses and midwives have also been critical - they are angry that annual registration fees are rising to £120.
Gail Adams, Unison head of nursing, said: "Public protection is everyone's business.
"We fail to see why nurses and midwives should have to bail the NMC out of a financial crisis of its own creation."
The Royal College of Nursing's chief executive and general secretary, Dr Peter Carter, said: "The RCN welcomes this report, which clearly goes to the heart of some fundamental weaknesses".
Katherine Murphy, of the Patients Association, said: "It is clear that the NMC will not only have to develop more robust regulatory procedures, but also work very hard to regain the trust placed in them by patients, nurses and other healthcare professionals alike."