Tony Robinson: 'Middle Ages were right on elderly care'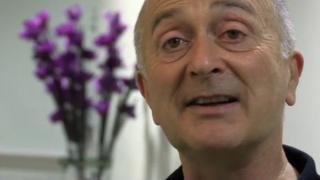 After spending a week in a residential care home, actor and presenter Tony Robinson believes it is time to rethink our attitude towards the elderly.
"Every minute of every day in a care home is pre-ordained," says 65-year-old Tony Robinson.
"When one is confronted by life, you're confronted with it as a variety of unexpected engagements. When you're in an old people's home the opposite is true, everything is regulated, it has to be, but it is a huge price to pay and one that I came to the conclusion, I couldn't bear to pay."
Tasked with experiencing what life might be like living in one of the UK's 20,000 care homes for a BBC television documentary, the famous pensioner became a resident in The Royal Star and Garter nursing home in Solihull for one week.
Although initially overwhelmed by the lack of life's natural rhythm, he also realised that this particular home had a lot to offer.
"It was founded with forces' money in order, primarily, to look after people who had been in the forces and their husbands or wives... everything was in tip-top shape.
"There was a bar, for instance, which I had never seen in a care home and I was very impressed by that. It was very light, very airy; all the things, I think, that if you are going to take a loved-one into a care home, you would want to see.
"But when I went into the room where I was going to stay… that was quite freaky because it was so like the room my mum had been in for the eight years that she had been in care."
Robinson's mother, who had suffered from dementia, entered a care home in order to convalesce.
"The thought always was maybe she will get well enough to come out and she just didn't," says Robinson. "In fact after the first few weeks she began to take a big dip and it was all fairly distressing."
Wasted wisdom
During his stay, Robinson formed a close bond with Donald Bennett, a 94-year-old former major who had fought in World War II and won the military cross for bravery.
Since his wife died 14 years ago, Bennett had found it increasingly difficult to live at home after falling over several times. And since entering the care home, he had kept mainly to his room.
"I was able to persuade him to use a little motorised vehicle in the home, which he actually enjoyed using - it was fun," says Robinson.
"I enjoyed using one too - it was like having you own dodgem car. He had not wanted to do that because he felt that it would be a failure, it would be a slump, it would be going downhill and actually what it did was it mobilised him to the extent whereby he was able to go throughout the home."
Yet, what particularly struck Robinson about Donald Bennett, and the other residents of the care home, was that society was not benefitting from their insight or wisdom.
"The four guys I got most friendly with… all had medals for valour in World War II. They all had wars like something out of a movie. They all had an understanding of the way men operate together, a wisdom developed out of the experiences that they had, which was really quite profound and I respected them enormously," he said.
"You don't have many chances to have that kind of interaction with the elderly - certainly not enough to generate respect."
Interaction
For Robinson, society needs to tackle the preconceived negative stereotypes of the elderly.
"You see an old person in the street and by-and-large you think they probably smell a bit and they probably go on and on and on, and you'll be trying to make your excuses to get away, and they'll walk really slowly, which is very irritating, and if they are crossing the road and you're in the car you want to lean on the horn and all of those kind of things, the really negative attitudes," he said.
While valuing the level of care provided by nursing homes for those like Donald Bennett, he would also like to see a change in the attitude of our society, encouraging further strategies around support for elderly people in their own homes and greater communication and collaboration between the residents of nursing homes and members of the public.
Drawing on an example from history, Robinson claims we can learn something from the Middle Ages.
"There was much more interaction," he says, between hospitals, hospices and the rest of the community in those times. "You look at the architecture of those places... the people were far more incorporated into society."
When it comes to elderly care, he believes that a new outlook would inspire new ideas.
"The answers will arise as we begin to change our attitudes."