Racer has tumour pushing on brain removed via nose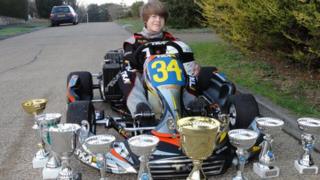 A promising young go-kart racer has had a tumour removed from the base of his brain in a delicate operation to extract the growth through his nose.
Fifteen-year-old Matthew Biddle, from Eastbourne, had a golf ball-sized tumour pushing on the top of his spinal cord and his brain stem, the part vital for controlling movement.
Doctors think the growth may have been there since Matthew was born, however, it only started to cause problems this year.
Bouts of sickness and neck pain at the beginning of the year had his parents worried. Blood tests suggested everything was fine, but things got much worse during the Easter holidays.
While Matthew, a huge fan of Jenson Button, was preparing for a race he was struggling to get the fingers on his left hand into his racing glove.
His mum Susan Ward said he raced anyway with an "absolutely amazing" performance to finish in first place.
After the race though his fingers "looked a bit strange" and he could not write with a pen.
"We thought 'oh goodness' this could be something serious," Susan said.
'Totally devastating'
An MRI scan at Eastbourne Hospital showed a 5cm 'clival chordoma' pressing onto his brainstem.
It was this growth that was affecting the movement of his fingers. The paediatric team said they were amazed that, considering the pressure it was putting on his brain, his symptoms were not already much worse.
Susan said it was a "totally devastating" moment for the family and Matthew was sent straight to a team of neurosurgeons at King's College Hospital in London.
Consultant neurosurgeon, Mr Nick Thomas, said: "There was a sizeable tumour extending along the base of the skull, pushing back onto the brainstem, which controls breathing and heart rate."
He said the tumour was in a technically demanding area to get to and that in the past it would have been necessary to cut through the jaw or the cheekbones in order get near to the tumour.
Instead a thin endoscope was passed up through the nose and then round to the base of the skull. The tumour was then removed, piece by piece, in an operation which lasted nearly eight hours.
Mr Thomas said: "There was a massive improvement, he was ready to go home after a few days."
Susan said: "He was awake and smiling and they couldn't believe how well he'd come through it, he wasn't on any painkillers and he was back on the ordinary ward the next day.
"What the doctors have done for us is just incredible."
Matthew's karting is still on hold. He is not expected to take to the track again until next year.