More industrial action 'not ruled out' by doctors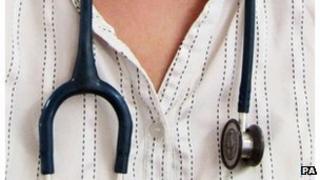 More days of industrial action are not being ruled out by doctors' leaders as they ponder their next move in the battle over pensions.
The BMA leadership will spend the next week discussing what to do after Thursday's boycott of non-urgent care.
The union is holding its annual conference next week, when it will gauge the mood of members.
It comes as ministers urged doctors to work hard to deal with the backlog of patients who had treatment cancelled.
About 10% of hospital operations and appointments had to be postponed as doctors staged their first day of action since 1975, according to the government.
The BMA believes the disruption was twice as bad.
Health Secretary Andrew Lansley said: "It is extremely regrettable if any patients have suffered unnecessarily.
"We will do everything we can to ensure that those patients get their treatment as soon as possible.
"I call on the BMA to commit to further co-operation to enable patients to have their rescheduled operations and appointments as soon as possible."
But the ability of the NHS to catch up hinges on what the BMA decides to do next.
Opinion within the union is mixed and the issue is further complicated by the fact the current leader, Dr Hamish Meldrum, is due to stand down next week.
He will be replaced on Thursday - the final day of the BMA's conference, which is being held in Bournemouth.
It will be up to the 34 voting members of the BMA Council to make that decision.
'Carefully consider'
There are three candidates - Mark Porter, an anaesthetist from Coventry who is chairman of the BMA consultants committee, Bangor medical academic Michael Rees and George Rae, a GP from Newcastle.
The new leader will then immediately chair a meeting on the pension dispute.
But before then doctors attending the conference will have been given the chance to debate the issue.
A source close to the BMA leadership said the union wanted to take the coming week to "carefully consider" the next steps.
The appetite among the other health unions for action is not as great as it has been within the BMA.
While the BMA ballot attracted a 50% turnout with eight in 10 voting in favour of action, the Royal College of Nursing, the next most influential union voice in the NHS, had a much smaller turnout and has not felt able to call for industrial action itself.