What NHS action means for patients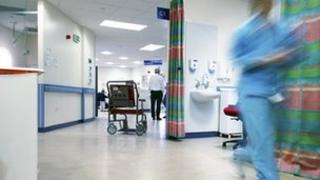 In simple terms, emergency and urgent care is available, while routine appointments and treatments are not.
But much depends on how doctors and patients react.
There are 140,000 doctors in the UK and not all of them will take industrial action.
Some will also be more militant than others in applying the boycott of non-urgent care.
But the NHS is a finely tuned machine. And if the behaviour of patients alters because of the strike, problems could occur.
Emergency services could find themselves deluged with patients, creating bottlenecks that could have knock-on effects for other areas.
Hospitals
Emergency and urgent services, such as A&E units and maternity departments, are open and patients should use them as normally, the Department of Health says.
However, routine outpatient appointments and non-emergency surgery, such as knee and hip replacements, could be cancelled.
Most hospitals have been letting patients know in advance if they are affected.
The government says if patients have not been informed of any alteration they should attend hospital.
But it is possible some appointments could be cancelled on the day as doctors do not have to tell their employers whether they are taking action.
GP surgeries
Again, much depends on how many doctors take part.
Some surgeries could be completely unaffected.
Patients ringing up on the day are still being offered emergency appointments.
Even those with seemingly run-of-the-mill complaints, such as colds, are being told to get in touch if that is what they normally would do.
But pre-booked visits, for routine blood tests or check-ups, are being affected.
And some patients have been informed in advance that their appointments have been cancelled.
Ambulances
Paramedics are not taking part in the industrial action so the 999 service should remain unaffected.
However, much depends on how patients react.
In November when nurses, health care assistants and NHS support staff went on strike there was a surge in 999 calls in London.
It meant the local ambulance service was only able to answer the most urgent calls even though staff had promised to maintain emergency services.
It is still not clear why there was a spike in calls, but it has been suggested patients resorted to the ambulance service when they would not have normally because they could not get help elsewhere.
Small changes in behaviour can have a significant impact, which is why the Department of Health issued guidance ahead of the industrial action reminding patients they should only use 999 for real emergencies.
Non-medical services
The industrial action only involves doctors.
It means a host of other NHS services, including dentistry, physiotherapy and district nursing, are running as normal.
Pharmacies are also unaffected and are on hand to provide help and advice for minor ailments.
Once again, the government is advising patients to continue using services as normal.
NHS Direct will also be operating and is available at www.nhs.uk/nhsdirect or on 0845 4647.