Woman seeking elective amputation takes next step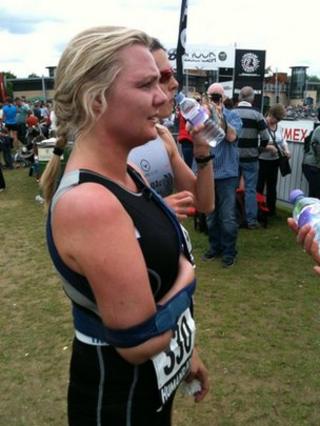 A woman who wants to swap her right hand for a bionic prosthetic will undergo exploratory surgery in September to determine if the amputation can go ahead.
Nicola Wilding, 35, from Surrey, lost the use of her right hand in a car crash 12 years ago.
Viennese surgeon Oskar Aszmann will examine nerves in her forearm.
He may then transplant muscle to boost the nerve signals in her arm so they could steer a prosthetic.
Ms Wilding met Mr Aszmann for an initial consultation in London earlier this year.
She has since travelled to Vienna for tests during which electrical stimuli were applied to her arm.
"I saw Oskar in Vienna and was attached to a nerve pulse stimulator," she told BBC News. "There were little spikes of nerve activity that Oskar said were no more or less than the patients who have had the elective amputation, which is positive."
"We then discussed the next step, which involves me returning to Vienna in September so he can open the arm and see if the nerves there are sensory or motor nerves."
"If they are sensory, then there is nothing that can be done and that is the end of that. If there are motor nerves, then he'll remove muscle from my legs to implant on the forearm so I can work and strengthen the nerve and muscle and ultimately operate the prosthesis."
Ms Wilding decided to explore the option of amputation after seeing a Newsnight film on the work of Mr Aszmann last year.
She has now started competing in triathlons to raise the money she will need for the operations, prosthesis and support, should she go ahead with the amputation.
Nerve biopsy
Speaking on the phone from Vienna, Mr Aszmann said: "She does have very faint signals in her forearm but she will need stronger signals to drive a prosthetic device.
"When I tap her hand, she says she can feel something, but we need to open up her arm to see if there are enough motor fibres to provide signals to the bionic hand."
Mr Aszmann will remove a cross-section of the nerve fibres in her forearm during the surgery, which will be then undergo a staining procedure to determine within minutes which nerves are sensory (providing feeling) and which ones motor nerves (driving muscle movement).
The procedure is called an acetylcholinesterase stain.
If there are motor nerves, then Mr Aszmann will transplant muscle from the leg to boost the electric output of the nerves.
These electrical signals are essential if Ms Wilding is ever to control a bionic hand, and without them, the amputation would be pointless.
Mr Aszmann has to date performed two elective hand amputations, and both patients are now using their bionic replacements. A third elective amputation is scheduled to take place this week.