GP surgeries scored out of 10 on NHS Choices website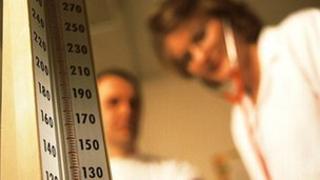 Scores indicating how happy patients are with their GP surgeries are being published online for more than 8,000 practices in England.
The marks - out of 10 - reflect measures such as how easy it is to get an appointment and how well doctors and nurses explain conditions.
The results, based on a nationwide survey, are on the NHS Choices website .
But doctors' groups are concerned the scores fail to account for differing challenges faced by surgeries.
The Department of Health says the differing areas GPs practise in will be taken into account when the data is published.
People will be able to compare the performance of their own GPs with others in their local area.
This information will help patients decide which practice is best for them and drive up standards in the profession, the government said.
"Patients will now be able to see exactly what the experience of being a patient at each GP surgery is really like," health minister Lord Howe said.
Rating waiting times
The data will also allow patients to find GPs with experience of treating people with similar conditions as them.
There will be a breakdown of the scores, with marks for the length of time patients have to wait in reception and ratings of doctors' and nurses' listening skills.
Katherine Murphy, chief executive of the Patients Association, said: "Our helpline is seeing a trend of increasing complaints about GPs, covering a number of areas, including difficulties obtaining an appointment, complaints about behaviour of reception staff and other factors that affect their overall experience.
"These changes will not resolve these issues overnight, but providing clear and easily comparable data is certainly a step forward."
The British Medical Association agreed with the importance of receiving feedback from patients, but said it "must be done in a way that provides accurate information that GPs can act on".
"Reducing surgeries to a score out of 10 fails to allow patients to give detailed responses.
"The rating would also fail to take into account the differing challenges that each GP practice may face, especially in terms of resources which are increasingly being squeezed by government cuts," a BMA spokesperson said.
The data has been taken from the GP Patient Survey which was filled in by over 1m randomly selected people across England last year.