IVF 'higher risk of complication'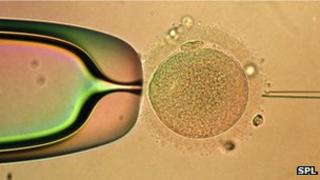 There is a higher risk of complications and multiple births in pregnancies that result from IVF techniques, say experts.
A report by the Royal College of Obstetricians and Gynaecologists said there were increased risks of premature births, low birth weight and congenital abnormalities.
However, it said the vast majority of IVF children were as healthy as other children.
IVF accounts for over 1% of UK births.
Advances in fertility research have allowed more infertile couples to have children and at an older age.
Risks
The Royal College's Scientific Advisory Committee reviewed the risks of IVF, which it said were directly related to the number of foetuses and that IVF techniques appeared to double the risk of twins.
It said: "About one in four of all IVF pregnancies result in a multiple birth in the UK owing to the common practice of replacing two or three embryos."
It also said there was a 23% increased risk of a premature birth, but the risk remained low.
"IVF pregnancies still demonstrate an increased risk of low birth weight," it said.
Heart defects, cleft lips and other congenital anomalies are also more common. It said around 5% of all babies were diagnosed with an abnormality, but IVF babies were around a third more likely to have a problem.
Long term
Later in life, the report said there were no differences in brain, language or behavioural development and there "appears to be little impact at age 12".
Prof Jenny Kurinczuk, director of the National Perinatal Epidemiology Unit at the University of Oxford, said: "IVF pregnancies carry an increased risk of poor birth outcomes and complications. Nevertheless the majority of the children born following IVF will have a good outcome just like any other children.
"The poor birth outcomes and complications may be a combination of treatment and underlying features of the couple such as older maternal age. However, treatment strategies can be altered to improve outcomes such as the adoption of elective single embryo transfer."