Long A&E waits 'rising steeply'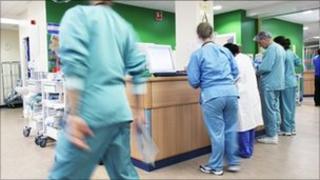 Long waits in A&E units in England have started rising "steeply", hitting their highest level for seven years, an analysis suggests.
The King's Fund report showed 4.2% of patients waited longer than four hours from January to March, compared with 3.4% in the same period last year.
It means long A&E waits are at their highest level since 2004.
The group said it was a sign hospitals were struggling, but ministers said the waits were within acceptable levels.
The health service is allowed to let up to 5% of the 21m patients who visit A&E units each year wait longer than four hours.
This is built into the system to give doctors the freedom to prioritise the sickest patients.
So the proportion of patients waiting for over four hours is still within the target, which measures the length of time from arrival at A&E to discharge or admission to hospital.
What is more, that leeway has been increased from 2% in the past year.
'Steep rise'
The King's Fund, which used government figures for its analysis, accepted the rise seen over the last 12 months could be partly linked to prioritising of the most unwell.
But it also said it was indicative of the pressures in the health service - funding is being squeezed at a time when A&E units are having to treat more patients.
Professor John Appleby, the chief economist of the King's Fund, said the "steep rise" should be a concern for the government.
Mike Clancy, president of the College of Emergency Medicine, said: "The A&E waiting times are a reflection of how the whole system is working.
"The pressure on beds is increasing and this in part may account for the increasing reporting of overcrowding of departments."
And shadow health secretary Andy Burnham added: "This report is highly embarrassing for a prime minister who said A&E waits would be one of the tests of his NHS re-organisation.
"On Cameron's watch, the NHS is heading back to the bad old days of chaos in A&E and patients left on trolleys."
But Health Secretary Andrew Lansley said the King's Fund was "wrong" to suggest it was a growing problem as the government had given hosptials greater flexibility over how quickly they treat patients.