New patients' ratings 'to improve NHS care'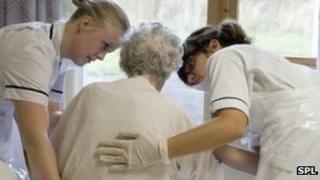 A new NHS patient rating system is to be introduced to help improve nursing care in England, the government says.
From April 2013 patients will be asked if they would recommend the hospital they were treated in to friends and family - with the results made public.
It is the first recommendation the government has accepted from its Nursing Quality Care Forum.
But there was no commitment on a host of other recommendations, including a call to review staffing levels.
Concerns have been raised about staffing levels in recent months after 2011 data showed the number of nurses employed by the NHS had fallen by 3,500 - 1% of the total - in a year.
The Royal College of Nursing has called for minimum staffing levels, saying care is being compromised because nurses are overstretched.
Financial constraint
The forum - set up by ministers in January after a series of critical reports into standards of care - said staffing levels was one of the major issues voiced during its review.
It said boards should review staffing levels and action should be taken where needed.
The forum also said nurse leaders needed to be given the time and support to lead.
And it called for nurses to be recruited on their ability to show compassion and care as well as their academic skills.
These are just some of a host of recommendations made by the forum across a range of areas, including the use of technology and management structures.
But the prime minister will make only one firm commitment when he makes his first response to the forum on Friday.
That will be on the so-called "family and friends test".
This already forms part of the annual staff survey.
David Cameron will say: "Like everything else we're doing in our health service, this comes down to the same thing: making sure that everyone who walks through the doors of our NHS gets the best care they possibly can."
Shadow health secretary Andy Burnham said the announcement was good "as far as it goes" but no substitute for "getting a grip on what matters to patients".
He said: "David Cameron now wants to hear the views of patients, but it's a shame he wouldn't listen to them when they were pleading with him in their thousands to drop his bitterly contested NHS re-organisation."
He said people were waiting longer in A&E and on trolleys in corridors, and wards were closing.
Forum chairwoman Sally Brearley welcomed the decision to back the "friends and family test" and said the group wanted to continue to work with government.
Peter Carter, general secretary of the Royal College of Nursing, also backed the move.
But he said it was important ministers looked at the other issues raised.
"This report echoes what the RCN has been saying about the importance of staffing levels and skill mix. In these times of financial constraint we must ensure that the level of nursing care is sufficient across all settings," he said.
"Giving nurses the time and resources to care is crucial."
But Ciaran Devane, chief executive of Macmillan Cancer Support, said: "The proposed 'friends and family test' is a good start to highlight which hospitals need to improve their care but it is too basic to make real improvements on the ground.