Many NHS trusts 'rationing cataract surgery'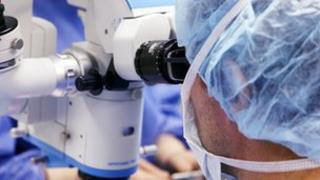 A growing number of areas are placing restrictions on access to eye surgery, figures obtained by campaigners show.
The Royal National Institute of Blind People data showed over half of the 152 NHS trusts in England had imposed their own criteria - tougher than national standards - for cataract operations.
The charity said it meant patients were left to wait until their sight problems deteriorated before getting help.
Health Minister Simon Burns said the restrictions were "unacceptable".
The charity said delays to treatments had a debilitating impact on the everyday lives of people.
Cataracts are cloudy patches on the lens which cause loss of sight and can stop people being able to drive or read.
They affect a third of people aged over 65 and can be treated by cataract surgery, which involves replacing the damaged lens with an artificial implant.
These operations are one of the most common carried out by the NHS, with 350,000 done each year.
Restrictive
But the research by the RNIB suggests that primary care trusts (PCTs) - the management bodies in the NHS - are rationing access to them.
The findings come after doctors at the British Medical Association's GPs conference warned on Tuesday that restrictions on access to all kinds of care was becoming more common.
The RNIB asked all 152 PCTs whether they had introduced their own criteria in eye tests beyond the national policy, which states that if cataracts are hampering quality of life, an individual should be offered treatment.
A total of 151 trusts replied to the freedom of information request.
Some 57% of them confirmed they had set their own criteria - much of which the RNIB said was "very restrictive".
This figure was higher than that revealed by data the charity obtained a year ago.
Clara Eaglen, RNIB's health campaigns manager, said: "People should not have to live with a reduced quality of life simply because trusts are using arbitrary criteria to determine whether they get to keep their sight.
"When a cataract begins to affect a person's everyday life, their sight will only continue to deteriorate.
"They will require surgery at some point in the future and not treating now will only increase waiting lists in the future."
Professor Harminder Dua, the president of The Royal College of Ophthalmologists, said the restrictions were "regrettable".
He added: "They are arbitrary and are a response to financial pressures, not clinical needs."
Health Minister Simon Burns said no right-thinking person could understand how a patient's treatment could be unnecessarily delayed.
"If patients need treatment, they should get it when they want it and where they want it," he said.
"If local health bodies stop patients from having cataract treatments on the basis of cost alone, we will take action against them."