Diabetes care 'has been failing for decade'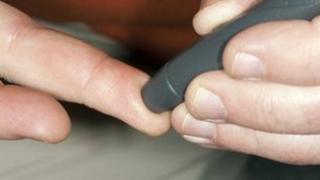 Standards for diabetes care are still not being met in England - 11 years after they were set, a report suggests.
The Department of Health recommended in 2001 that patients should receive nine basic services, including cholesterol and blood pressure monitoring, eye screening and foot examinations.
But the National Audit Office analysis said despite improvements, just half of patients were getting the checks.
The government said the NAO had taken only a "snapshot" of care.
The watchdog also criticised ministers for not having a grip on costs.
It said the NHS was spending at least £3.9bn a year on diabetes - three times more than ministers had estimated.
'Failed to deliver'
But the watchdog said better management of patients could save £170m a year through fewer hospital admissions and less complex treatment. About 24,000 unnecessary deaths could be prevented too.
More than 2.3m people are diagnosed as having diabetes.
Without effective care, patients can develop a range of complications, including blindness, amputation and kidney disease.
NAO head Amyas Morse said the Department of Health had "failed to deliver".
And he said without action, the expected rise in diabetes - by 2020 numbers are forecast to jump by a quarter - would have a "major impact on NHS resources".
The report also points out the NHS reorganisation has led to many diabetes specialists in the community leaving their posts.
Barbara Young, chief executive of Diabetes UK, said the findings were a "damning indictment of the current approach to the condition".
Care Services Minister Paul Burstow said plans were already in place to improve services.
But he added: "There is no excuse for delivering anything but the best diabetes care."