Arthritis: How sports stars can learn to reduce risk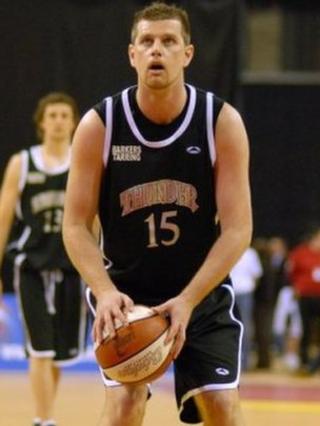 Sports-mad Ciaran Burns was 22 years old when he was diagnosed with degenerative arthritis in his right knee.
For a semi-professional basketball player who had represented the Republic of Ireland at junior level, the news was devastating.
"At my age I didn't think anything like that was going to bother me.
"I'd been playing sport competitively since I was 10 years old. It was very hard to give up."
Ciaran joins a long list of sportsmen and women whose careers have been curtailed or ended by this kind of injury.
England cricketer Andrew Flintoff and Spurs defender Ledley King's chronic knee problems are probably the best-known examples.
It's not surprising that athletes place great physical pressure on their bodies, but scientists now want to find out how far they can go before risking long-term injury.
A new national research centre, funded by £3m ($4.7m) from Arthritis Research UK, may provide the answer.
Prof Alan Silman, medical director of the charity, say there are lots of unknowns in this area.
"We need to know how to achieve a balance between exercise that is good and exercise that is harmful.
"In general, using your joints is good because cartilage and bone need the stimulus of exercise.
"Even a little bit of damage is okay because it will repair, but when damage is outweighing the repair mechanism, then it becomes something else."
What it tends to become is osteoarthritis.
Osteoarthritis affects the joints, causing pain, stiffness and reduced mobility - and it affects the lives of around nine million people in the UK.
Although it occurs more frequently in older people, young people and children can still be affected.
Ciaran knew that the wear and tear on his joints from playing basketball and a bad cruciate ligament injury at 19 had contributed to serious problems in his knee.
His injury is also typical of footballers, and his arthritis diagnosis shows what can happen when a joint is left permanently damaged and changes occur in how the joint works.
Tom Saw, a GP in Milton Keynes with a specialism in sports and exercise medicine, says he sees people of all ages with joint pain.
But the older we get, the less hope we have of avoiding it.
"One hundred per cent of 60 year olds have arthritis in their lumbar spine," he says.
"People who are obese are more likely to have joint pain, and professional sports people get early arthritis because of the frequent trauma to their joints."
Dr Saw's advice is to keep the weight down and exercise regularly - and sensibly.
There are certain forms of exercise, he says, which are better than others.
"Swimming, cycling and walking is a good combination."
This is because they combine joint-friendly cardiovascular exercise and the use of big muscles in cycling which can result in weight loss.
'Carry less weight'
Dr Simon Till, consultant in sport and exercise medicine at the Royal Hallamshire Hospital in Sheffield, says the message on how to keep your joints healthy is to keep active.
"It doesn't have to be going to the gym. Being active throughout the day is better.
"For example, walking rather than using the car, getting off the bus a stop early and doing the gardening regularly."
Even for someone with osteoarthritis, the advice is still to carry less weight and build up cardiovascular fitness, Dr Till says.
Ciaran, who is now 29, was told that he would need a knee replacement at 35 if he kept punishing his joint.
"My daughter was six months old at the time and it was very difficult to kneel over a bath. My knees would be clicking away going up and down stairs, and swelling up."
He found that physiotherapy and taking an alternative rosehip therapy helped him.
Dr Saw acknowledges that some natural remedies, as well as aspirin and anti-inflammatories, can have a positive effect on joint pain.
But the most important remedy and means of prevention - for professionals and amateur athletes - is to engage in sporting activities without overloading the joints, Prof Silman says.
"Warming up and training exercises are key. Learning how to jump and turn and land is vital.
"Research shows that the way you train can have a big impact on your body."