Father calls for organ donation lessons in schools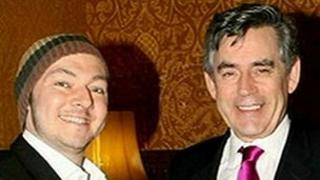 A father who lost his son to leukaemia is calling for secondary schools and colleges to include one lesson on how to donate stem cells, blood and organs.
Keith Sudbury wants to raise awareness by making donation part of the curriculum for students aged 16 and over.
His son Adrian received a stem cell transplant which gave him an extra year of life, but died aged 27.
Blood cancer charity Anthony Nolan is supporting the idea of 'Adrian's Law'.
Adrian spent the last two years of his life campaigning for better education about stem cell donation.
He took a petition to Downing Street and met the then Prime Minister Gordon Brown to talk about the campaign to get more young people to register as donors.
With Adrian's Law, his parents Kay and Keith want the message to reach more young people and they hope that there will be a Private Member's Bill in the Commons to highlight its importance.
"We urgently need more people willing to donate blood and stem cells," Keith Sudbury said.
"By taking this message to students 16 years and over we can grow the first generation of potential lifesavers who really understand what it means to donate blood, organs and stem cells."
Match up
Targeting this age group is important because young people are much more likely to be selected as a match for a stem cell donation, and yet 18-30 year olds only make up 12% of the register.
The Anthony Nolan register is used to match donors willing to donate their blood stem cells to people who need life-saving bone marrow transplants - like leukaemia patients.
Only one in 1,000 people who join the stem cell register will get called to donate their stem cells, and it is a simple process.
There are two methods of extracting stem cells. The first is through a vein in the arm and the second is from the bone marrow in the pelvis.
"It's a no brainer really. The more you educate people, the more people will join the register, the more matches you have and the more lives are saved," Keith says.
'Phenomenal'
There are currently almost 1,600 people in the UK waiting for a stem cell transplant and 37,000 worldwide.
But charity Anthony Nolan says they can only find a matching donor for half the people who come to them in desperate need of a transplant.
Henny Braund, chief executive of Anthony Nolan, said the response from presenting Adrian's story in schools has been "phenomenal".
"Thousands of teenagers have signed up.
"Taking this to 700,000 young people a year would help change the culture around donation and save thousands of lives.
"Adrian's Law will help young people grow into potential lifesavers."