Vaginal rings 'riskier than contraceptive pill'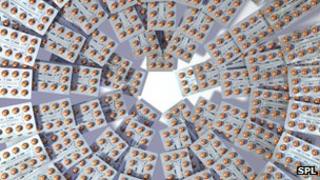 Using skin patches or vaginal rings for contraception presents a higher risk of developing serious blood clots than the pill, according to researchers.
A study, published on the BMJ website , followed all women in Denmark for a decade to compare the risks of developing clots.
The authors said women should be aware of the risks with each form of contraception.
The British Pregnancy Advisory Service said there was no reason to panic.
Data from more than 1.6 million women was analysed by researchers at the University of Copenhagen.
Women not using contraception were found to have a two-in-10,000 risk of developing a clot each year.
This increased to six in 10,000 for those using the combined oral contraceptive pill.
Even higher risks were reported for vaginal rings (7.8 in 10,000) and skin patches (9.7 in 10,000).
When the researchers adjusted the figures to account for other factors, such as woman's age, they said the pill led to a three-fold increase in the risk of a clot. Women using a patch had an eight times increased risk and those using a vaginal ring had a 6.5 times increased risk.
Informed choice
Prof Oejvind Lidegaard, who led the study, said: "The most important thing is that women are informed about the risk.
"If women still prefer to have a ring or a patch, for example, because they are not able to remember to take the pill daily, then they can continue. That is their own choice.
"For me, the important thing is that they are informed about the risk."
Dr Ellie Birtley, lead clinician at the British Pregnancy Advisory Service, said: "Women using these methods should not panic.
"The risks of venous thrombosis raised by these forms of contraception are still significantly lower than the risks to women who are pregnant.
"There are now a large number of contraceptive methods available, and women should consult with their doctor or nurse to find the method that is most suited to them and their lifestyle, and therefore most likely to protect them against unwanted pregnancy."