Arthritis cases 'set to double to over 17m by 2030'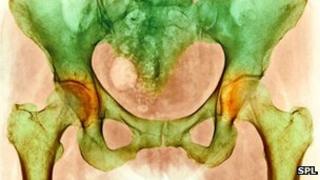 Cases of osteoarthritis in Britain look set to double to over 17 million by 2030, according to experts.
A report by the charity Arthritis Care says the predicted rise is down to the UK's ageing population and growing obesity problem.
Experts estimate that by 2030 over half of the UK population will be aged 50 or older and nearly the same proportion will be obese.
The charity is urging government to plan ahead for this "tsunami of pain".
Its report - OANation 2012 - says 8.5 million people in the UK have osteoarthritis and 71% of them - 6m - are in constant pain.
Osteoarthritis (OA), the most common form of arthritis affects the joints, causing pain and stiffness and often reduced mobility. It usually develops in people aged over 50, but some are younger. The exact cause is not known, but anything that puts stress and strain on the joints - including obesity - can play a part.
Although not life-threatening, OA can have a significant impact on quality of life.
The report, which include the results of a YouGov poll of 2,000 OA patients, suggests one in five give up work or retire early because of their condition.
Each year, 2m adults visit their GP because of OA. The NHS in England and Wales performs over 140,000 hip and knee replacement operations every year.
Judith Brodie, CEO of Arthritis Care, said: "The individual, economic and societal burden of OA is already enormous, but with an ageing and increasingly obese population the future is looking bleak.
"We need policy-makers and professionals to take the condition seriously; to implement robust and meaningful strategies to address how OA is treated and managed across the UK and to improve health services."
Liam O'Toole of Arthritis Research UK welcomed the report, saying: "The increasing burden of osteoarthritis is exactly the reason we have continued to increase our research funding into this disease over the last few years."