IVF: Embryo chromosomes test 'increases success rate'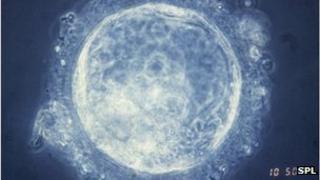 A test which checks if an embryo contains the right amount of genetic information could dramatically improve the effectiveness of IVF, a UK biotech company says.
IVF can have a low success rate, particularly with older women.
A study, published in the journal Molecular Cytogenetics , suggests that extra genetic screening increases the pregnancy rate by 65%.
Cambridgeshire biotech company Blue Gnome has developed the test.
The findings were described as "very exciting" by experts.
For women under 35, about of third of IVF cycles result in a baby .
That figure drops to one in five by a woman's late 30s and about one in 20 by her mid-40s. Each cycle can cost thousands of pounds.
Numbers game
After a sperm has fertilised an egg, the developing embryo should contain genetic information from both parents - 23 chromosomes from the mother and 23 from the father.
Sometimes mistakes get made and the embryo can have too many or too few chromosomes. In most cases this means the embryo will not develop.
The screening method developed by Blue Gnome takes a few cells from the embryo when it is five days old. These are analysed to count the chromosomes. Only those with the correct number are then implanted.
The study compared the effectiveness of current screening methods with using chromosome counting alongside standard tests.
Twenty weeks after the embryo was implanted, 42% of the women screened using the current checks were pregnant. This compared with 69% of women with the additional screening.
Blue Gnome chief executive Nick Haan said the test "can offer a dramatic benefit to IVF success rates".
He added: "While further studies are still needed, this result is incredibly exciting because it indicates for the first time that 24-chromosome screening and single-embryo transfer has the potential to become the default standard of care for all IVF cycles worldwide."
Stuart Lavery, a consultant gynaecologist and director of IVF at Hammersmith Hospital, said the concept had been around for many years and was "seductive" as it made so much sense.
He said recent advances in developing the test had shown chromosome checking could improve IVF and described the latest study as "exciting".
"The study not only increased pregnancy, but by putting back just one embryo. This test may mean you can use single embryo transfer and get a really good success rate."
Prof Dagan Wells, from the Nuffield Department of Obstetrics and Gynaecology in Oxford, said that IVF is "still remarkably inefficient" and that he already used the counting screening test for some women.
He told the BBC: "We know from this particular study that it does seem to work rather well - it's very exciting really.
"More research is needed to nail down who will benefit, but my gut feeling is that it is valuable."