Hinchingbrooke hospital 'profit deal' revealed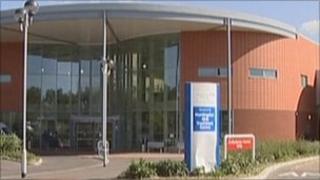 Details of the deal which allows the private sector company Circle to profit from running an NHS hospital have emerged.
It keeps the first £2m of any annual surplus it achieves at Hinchingbrooke hospital in Cambridgeshire, and a percentage of further profits.
It took over the hospital, which has debts of nearly £40m, in February.
The union Unison said the deal was a "disgrace" and that all surpluses should be used to pay off debts.
Circle's 10-year deal will see it assume the financial risks for running a hospital which was once labelled a "financial and clinical basket case".
Surplus
However, details of how it could make a profit have been uncovered by the Health Service Journal.
If it succeeds in reversing the hospital's fortunes then the first £2m of any yearly surplus goes to Circle. It will then keep a quarter of any profits between £2m and £6m, and of third of those between £6m and £10m. All income above that level in any year will go towards paying the hospital's debts, currently £40m.
In order to pay off all of Hinchingbrooke's debts, it has been calculated that Circle would need generate a surplus of £70m over the 10-year contract - but this would vary depending on how much profitable income varies over those years.
Ali Parsa, the chief executive of Circle, said: "Projections in the bid process showed the potential losses facing Hinchingbrooke in the coming years could reach many tens of millions.
"We have been tasked to stop taxpayers losing this money. Our plan is not only to do this and make the hospital sustainable, but to turn it into one of the best district general hospitals in the country.
"Only when we succeed in our ambitious goal will there be rewards to share fairly between our partnership, which includes Hinchingbrooke staff, our start-up backers and the local health economy.
"Circle has always reinvested profits back into building our partnership and services, and will continue to do so."
One of the architects of the deal, Dr Stephen Dunn from NHS Midlands and East, said that without this deal the hospital would be facing closure, cuts to services or be in need of a huge subsidy.
He told the BBC: "Circle will only take out a fee if the trust is in surplus. That is a major protection for the taxpayer, and we are confident there will be no compromise on quality and safety. We have mechanisms in place to ensure that Circle deliver on their plans and they will have to cover any deficits."
'Disgrace'
Christina McAnea, head of health at Unison, said Circle could "cream off nearly 50% of the hospital's surpluses" which would make it "virtually impossible to balance the books".
"This is a disgrace. Any surpluses should be going directly into improving patient care or paying off the hospital's debt, securing its future for local people - not ploughed into making company profits.
"Instead patients and staff are facing drastic cuts. The hospital was already struggling, but the creep in of the profit motive means cuts will now be even deeper. And it is patients and staff that will pay the price."
Prof John Appleby, from the King's Fund, said that in order to make money the hospital would would need to attract patients from other hospitals and the bigger question was: "Why should Hinchingbrooke continue to exist?"
He said: "If Circle do do this, some will see it as money flowing out of the NHS, but if the decision is to keep Hinchingbrooke then maybe it is worth paying the money."