London Olympics: Disease-check legacy of Games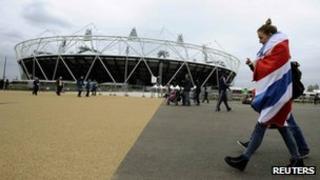 Imagine an entire season of Premier League football matches running in the same venue within several weeks.
That is how one health official is summing up the scale and the challenge of preparing for the 2012 Olympics.
There will be health legacies from the Olympics: the Health Protection Agency (HPA) says the Games will leave the UK with one of the world's best disease surveillance systems.
And a special polyclinic - looking after athletes and spectators on the main site - will stay open afterwards.
But transport congestion during the Games is the main factor that could cause problems for the NHS - not just for staff, but also for patients and supplies trying to reach hospitals.
NHS leaders in London are trying to make sure the health service can perform its "business as usual" without becoming too stretched during the Games.
They hope the NHS will stay below the radar, in terms of not attracting negative headlines.
Big spike in drunks
The party atmosphere, starting with the Jubilee weekend and ending with the Paralympics, means the workload in hospitals will feel more like winter levels than summer ones.
Staffing decisions are down to individual managers - but the NHS will still be expected to do its normal work and hit targets.
Figures from the 2010 Winter Olympics in Vancouver showed a big spike in drunk people turning up at hospital.
Planners at NHS London are expecting some days with similar pressures to New Year's Eve.
They are also predicting there might be higher levels of respiratory illnesses - either from infections being passed around or from conditions such as asthma.
The hope is that pharmacists will deal with minor illnesses, or point patients in the direction of walk-in centres, to take the pressure off busy accident and emergency departments.
Streets clogged
The east London pharmacy run by Farhad Hodabaksh is a hive of activity, even on an ordinary weekday morning.
As many as half a million foreign visitors are expected in the area during the Games.
Farhad is ordering extra supplies to cope with customers who have insect bites or sunburn, and those needing emergency contraception.
And he's re-arranging medicine deliveries, in anticipation that his part of Newham, east London, will become clogged with traffic.
He said: "We deal with GP surgeries in Stratford, near the main events. So we're advising patients to order their regular medication in time - don't leave it to the last minute.
"And we're looking at getting our driver to deliver medicine later in the day, probably in the evening. Luckily our driver is quite flexible."
Steve Fishwick, from the National Pharmacy Association, said: "Pharmacists in this part of the world will come into their own during the Olympics, and are likely to be the first port of call for many people."
Food poisoning
Planning began when the Olympic bid was launched eight years ago for Dr Brian McCloskey, who is co-ordinating the HPA's preparations.
At a special co-ordinating centre, his team are rehearsing what will become a daily situation report for key parts of government, on infectious diseases circulating in the UK during the Games.
Although the Olympics hub is London - and the city is at higher risk because of its connections to other parts of the world - visitors will also be at events in Dorset, Newcastle and Manchester.
Dr McCloskey told me: "The worst scenario we're planning for is a pandemic involving flu or a Sars-type outbreak. But we live with that possibility all the time - not just with the Games.
"The likely thing is that we will see outbreaks of food poisoning involving diarrhoea and vomiting - because that happens every summer.
"We're anxious about that because there will be a lot of extra food outlets around the Olympic Park.
"We will need to make sure we can get on top of those outbreaks quickly so they don't spread."
Good hand hygiene will therefore be important - but the HPA says reports of competitors being discouraged from shaking hands are simply scare stories.
There'll be free water points in the Olympic Park to stop people getting dehydrated.
Systems for picking up patterns of unusual symptoms have been expanded to include a wider range of NHS sources, including out-of-hours and hospital emergency departments.
Dr McCloskey said: "The UK will probably have the best surveillance systems in the world after these Games.
"We've also brought in a new test for gastro-enteritis, which can tell us within hours rather than days what the organism is causing it.
"And our testing has become more advanced for respiratory viruses. It means we can test for a whole range at one time - and quickly pick out something that is unusual and scary."
The officials behind the planning effort are comforted by the fact that the health service has previously coped well with unexpected events, such as swine flu and riots.