UK trial for portable brain-cooling device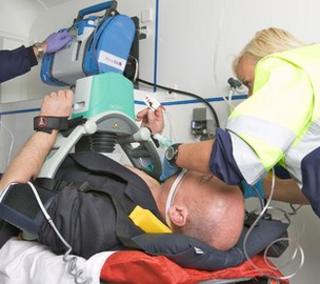 A trial has begun of a portable brain-cooling device which could enhance the survival prospects of cardiac patients.
Ground-based cars in the service of the charity London's Air Ambulance are the first in the UK to carry the Rhinochill machine.
Larger brain-cooling devices are already used in UK hospitals on cardiac and stroke patients to aid recovery.
But cooling the body earlier in the field, during resuscitation, could save more lives, early research suggests.
"We know quite well that if you're cooled after your heart attack, it can not only mean that your chances of surviving are greatly increased, but your chances of surviving without brain damage are too," Dr Richard Lyon, a registrar with London's Air Ambulance, told BBC News.
"For the last 10 years or so, the big thrust has been to cool you as quickly as possible, but usually after you get delivered to hospital, after your heart has been restarted.
"What we're doing is bringing everything much further forward - starting this brain-cooling process while CPR is still being carried out in the field."
So far, the team have used the machine five times, with funding for 20 patients over the next year. The money for the trial has been awarded by the College of Emergency Medicine.
The device, made by California-based company Benechill, works by delivering a cold current of air up the nostrils via tubes, cooling the brain and body.
Animal research suggests cooling the brain earlier could have a major impact on survival and recovery prospects for patients.
The machine is being carried by the Physician Response Unit, a vehicle dubbed the "cool car", which operates during daytime hours and responds to trauma and cardiac emergencies across the capital.
"Essentially, it's a very small unit which contains a fluorocarbon liquid. You plug the thing into an oxygen cylinder which then vaporises this liquid and the vapour comes out of the end of two nasal cannulai," explained Dr Lyon.
"We put two tubes into the back of the nose, about half an inch from the brain, and this cold spray which comes out at about four degrees cools the inside of your nasal cavity very rapidly and that cools the brain."
The brain-cooling unit will be used by the paramedics and doctors in conjunction with defibrillation and cardiopulmonary resuscitation (CPR).
"Someone's got to be doing CPR - and we often use a mechanical device to do that - someone's got to be putting a tube into the lungs and someone's got to work the defibrillator, and then there's the cooling nasal spay," he said.
Commenting on the study, Dr Gareth Davies, medical director and chairman of the trustees of London's Air Ambulance, said: "London's Air Ambulance prides itself on delivering medical innovation to increase the survival and recovery of its patients."