Weight-loss surgery for children 'can change lives'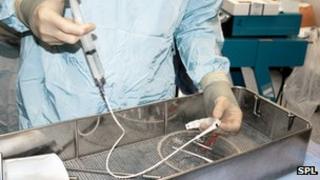 Bariatric surgery is often a last resort, helping patients lose a significant amount of weight when all other options have been exhausted.
For children who are morbidly obese, weight-loss surgery is never an easy option.
According to Mr Ashish Desai, a paediatric surgeon from King's College Hospital in London who specialises in this type of surgery, it is only considered when everything else has failed.
"Surgery is not a short cut or a solution by itself," he says.
"The patient must be seen every month in the year after surgery and must follow a strict diet and do all the prescribed exercises.
"If we feel like the patient may not be able to do the follow-up sessions or is not committed enough, we would not do the surgery."
Since the hospital recently became the first specialist surgical centre for paediatric obesity in the UK, he has operated on four patients, all aged 15-17.
Comfort eating
One of those is Jayne, not her real name, from Kent. She weighed 23 stones at the time of the operation, just before her 17th birthday, and had a body mass index (BMI) of 45.
Despite being committed to exercising and eating well, she was not able to lose weight.
"There were little things in my life that mounted up and I used food as my comfort. I tried loads of diets but my weight was my brick wall."
Jayne was bullied constantly at school and felt ostracised by society.
She was too self-conscious to go out of the house on her own and would hide under big, baggy coats.
After years of dieting, Jayne finally had tests and was told she would be a good candidate for gastric band surgery.
But, as Mr Desai explains, this is only the start of a long process which relies on the patient understanding the impact of surgery.
"The operation will only happen if the patient is mature enough to know what they are doing."
Young patients like Jayne are assessed by a dietician and a paediatrician for at least six months before surgery is even mentioned. During this time their diets are prescribed and closely monitored.
If a patient is not improving, a psychologist is often brought in to assess the patient too. The parents are also involved from day one.
At the same time tests are carried out to see if the patient's obesity presents a high enough risk to their health to qualify them for surgery.
"The long-term consequences of obesity can be severe," says Mr Desai.
"People have a feeling that obesity is all preventable and is that person's fault. But there can be two people from the same family eating the same food and their bodies will react differently."
'Exceptional circumstances'
This type of surgery has been carried out in children for many years in the US and Australia, but only more recently in the UK.
The National Institute for Health and Clinical Excellence (NICE) says bariatric surgery should be considered for young people only in exceptional circumstances and that families should fully understand the risks and possible side effects of the procedure.
Mr Desai classes Jayne as one of those for whom surgery is clearly justified.
Jayne had gastric band surgery in February, which involved putting an elastic band across the top end of her stomach to restrict the amount of food she can eat before feeling full.
Two months on from the operation and she is five stones lighter and has dropped four dress sizes.
"I am a totally changed person. I can now wear short-sleeved T-shirts and I've started learning to drive.
"I am 18 next year and I want to have a big party to show everyone the new, confident me."
But it hasn't all been an easy ride. Jayne had to live on water for a while after the operation and then slowly start introducing puréed food followed by more solid foods.
"It was really hard at first and it's not a quick fix," she says.
"Your brain is telling you can have food, but your body can't cope with it. Sometimes when you smell food it fills you up... I eat little and often now.
"If I go to a restaurant I have a children's meal. I know my limits and I don't want to go there."
"Before, food was a comfort - but I don't live to eat anymore."
Her surgeon, Mr Desai, hopes that she will be able to lose 30% of her original total weight.
But this will be an ongoing process for the next two years and will mean sticking to the diet and continuing to go to the gym.
Jayne has started writing a blog about her experiences to try to help other people with serious weight problems - and she's determined to be honest about it.
"It's harder than losing weight on your own. You can't just expect it to work overnight.
"But, in a way, I want to say thank you to all those people who bullied me, because this is who I am today."