Widen over-the-counter pill access, says NHS report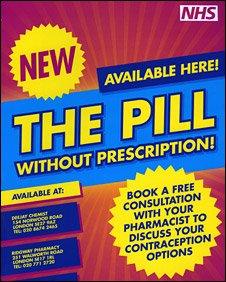 The contraceptive pill should be available at pharmacies without a GP prescription, including to some under-16s, suggests an NHS report.
A pilot scheme found a significant drop in emergency contraception after the launch of over-the-counter pill access.
The project looked at two London areas with high teenage pregnancy rates.
The report also suggests widening the service to include girls as young as 13 - two schemes currently offer this in the Isle of Wight and Manchester.
Since 2008, five pharmacies in Southwark and Lambeth have offered oral contraception without a GP prescription - these boroughs have some of the highest teenage conception rates in Europe, and the highest in London.
The study by NHS South East London judged the scheme a success. Its report also recommended providing the service to girls from the age of 13 as a way of helping to reduce teenage pregnancies.
However, it said: "At this stage there are no plans to extend the scheme to under 16-year-olds in Southwark or Lambeth."
The two pilot schemes already offering this service in England have to meet strict guidelines. These include that the girl is able to understand the advice of a health professional, and the likelihood she will start having sex regardless of whether she gets access to contraception.
The report was uncovered by the GP magazine Pulse. Its editor, Richard Hoey, said: "Improving access to the pill is a key component of strategies to reduce teenage pregnancies, but there are obvious sensitivities to widening pharmacy schemes to girls as young as 13.
"Where schemes like this are set up, it's important local GPs are involved, so they can be satisfied pharmacies are devoting the time needed to take a history and provide advice, and girls have a clear line to practices if they need further support."
The study found that around a quarter of the women receiving the pill in the scheme were aged under 19, with the majority aged 20-24. Forty-six per cent of the women who used the scheme had never taken the pill before.
Women using the service said they preferred getting the pill from the pharmacy, rather going to the GP for a prescription, because it was easier, quicker and no appointment was needed.
An anonymous user of the service said: "It is a quick way to get contraception, and it is very private, unlike a clinic where everyone will know what you are going there for."
While one pharmacy saw a significant drop in the use of emergency contraception after the pilot was launched, the report also found that a large proportion of women did not return for a subsequent pill supply- having gone back to emergency contraception. Many said this was because they did not have a regular partner.
Currently it is not known if the service has helped reduce teenage pregnancies as conception data for the last three years is not available.
Dr Peter Saunders, from the Christian Medical Fellowship, is not convinced it will. He said: "There is no clear evidence from this study that it will reduce unplanned pregnancy and abortion and there is a real risk that, by encouraging more risk-taking behaviour, it could fuel the epidemic of sexually transmitted disease.
"Without comprehensive research on real outcomes this strategy could well be like pouring petrol on flames. We should instead be focusing on evidence-based strategies aimed at bringing about real behaviour change."
A Department of Health spokesperson said: "Young people should think carfully before they have sex. They should also get good advice about contraception and sexually transmitted infections.
"The health professional must always encourage a young person to talk to their parents or another trusted adult about their sexual health."
The Royal Pharmaceutical Society said it was: "Entirely supportive the provision of NHS services to young people where there is an unmet need."
It added: "We are confident that pharmacists who supply oral contraception to young people will follow exactly the same guidelines as doctors and nurses, and provide the same level care to ensure the use of contraception is both safe and effective.
"We are encouraged to see that this pilot has found some evidence that when oral contraception is made available through pharmacy the use of emergency contraception decreases."
Rob Darracott - the chief executive of Pharmacy Voice, which represents community pharmacies - said: "Many pharmacies provide a range of sexual health services on the NHS, from contraception to testing and treating sexually transmitted infections.
"The success of these schemes shows that pharmacies deliver a thorough package of care.
"We understand that protocol in South East London includes thorough clinical instructions and referral guidelines prepared by a senior doctor in conjunction with a senior pharmacist."
Related Internet Links
The BBC is not responsible for the content of external sites.