First dance injury clinic for NHS to open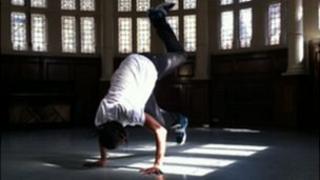 The NHS is opening its first specialist dance injury clinic, with hopes for others to follow around the UK.
It is part of a new National Institute of Dance Medicine and Science which is backed by several dance organisations and two universities.
The clinic will offer highly specialised treatment and rehabilitation services.
The institute also plans to conduct research into the treatment and prevention of dance injuries.
High rate of injury
Dance UK, the professional organisation for dancers, estimates that 80% are injured every year.
Those who are part of an established company may get limited access to private healthcare, but the majority of dancers who are freelance rely on the NHS.
Dr Roger Wolman is one of the specialists who will run the new clinic at the Royal National Orthopaedic Hospital in London. He says there are some injuries which are almost unique to dancers.
"You don't see them elsewhere - in that situation a specialist clinic will be able to pick those injuries up very, very quickly and get them the right treatment."
Tolerating pain
Many within the world of dance talk about a culture of tolerating pain as part of the physical endurance needed. It can make it hard for dancers to know when to stop.
Andry Oporia's dance career has taken him around the world performing in everything from music videos to major dance productions.
He was on tour with the hip hop company Zoo Nation when a niggling ankle injury became intolerably painful. Andry had to leave the stage half way through a performance.
After five months without a clear diagnosis he saw one of the doctors involved in the new NHS service. Thanks to that treatment he is now back performing.
"It means the world to me. The doctors wonderfully got me back to walking in less than a year," he says.
The inspiration for the clinic comes partly from New York where the dance community has been able to access highly specialised care for more than 20 years.
Demand from dancers
Those whose careers have been ended by injury say this NHS service will be heavily used by freelance dancers.
Kate Prince was rehearsing for the Paralympic handover in Beijing when she landed badly, breaking several bones in her foot. She now concentrates on her work as the artistic director of Zoo Nation.
Most of the young dancers coming through the company's training programme will end up working as freelancers. Kate Prince says it is a ruthless industry.
"When you're injured they'll just find someone else - I know it sounds cutthroat but if you're the employer you just need someone who can go on and do the job. So dancers just do continually dance on with pretty awful injuries."
The clinic in London is the first of its kind, with the hope that another will follow for a similar service in Birmingham and then other locations in the UK.
Setting up a dance injury service is the first step towards the creation of the National Institute of Dance Medicine and Science.
It hopes to draw on expertise within the NHS and the dance world to create an international centre of excellence in the treatment and prevention of dance injuries.