NHS's Sir Bruce Keogh warns over overnight discharging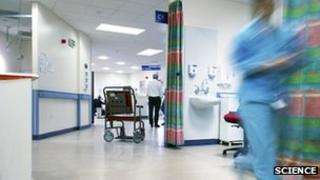 Hospitals in England have been told to end the practice of discharging patients in the middle of the night in order to free up beds.
The NHS medical director has written to Strategic Health Authorities saying it is unacceptable to send people home when they may have no family support.
Prof Sir Bruce Keogh was responding to figures obtained by the Times .
They suggest 100 NHS trusts sent 239,233 patients home between 23:00 and 06:00 in 2011.
The paper reported that some 3.5% of all hospital discharges took place between those hours and this rate had steadily held for the past five years.
The Times had contacted 170 NHS trusts in England but only 100 responded. The rates of those discharged varied widely between different hospitals.
'Treated with compassion'
"While some patients may of course choose to be discharged during these hours, the examples highlighted of elderly patients being left to make their way home by themselves in the middle of the night are obviously unacceptable, and need to be addressed urgently," Sir Bruce wrote.
"As health professionals we all agree that patients should be treated with compassion, so it is simply not acceptable to send people home from hospital late at night when they may have no family members nearby to support them."
Sir Bruce will meet medical directors of Strategic Health Authorities in May to check on their progress.
Meanwhile, Prime Minister David Cameron is due to meet nurses in Downing Street later for the first Nursing and Care Quality Forum to discuss concerns about patients' treatment.
The forum is made up of frontline nurses, patient representatives and medical experts.
Mr Cameron said he had asked forum members to "scour the country, find out what works best and share it across the NHS".