Nursing regulator 'poorly organised and weak'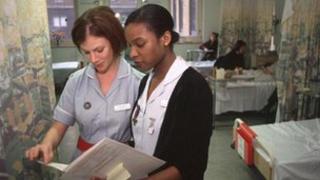 The body that regulates nurses and midwives in the UK is failing to carry out its duties due to institutional weakness, an interim review says.
The Council for Healthcare Regulatory Excellence was asked to look at the conduct of the Nursing and Midwifery Council (NMC) after concerns were raised about how it ensures NHS staff are fit to practise.
It says poor management has, in part, led to a backlog of misconduct cases.
A final report is due in the summer.
The NMC, which regulates some 670,000 nurses and midwives, said it was aware of the problems and was addressing them.
Prof Judith Ellis, interim chair of the NMC, said: "We accept the report's findings in its entirety and we are already working hard to address the recommendations."
Safeguarding patients
Undue delays in hearing complaints against nurses potentially put patient safety at risk, the report says.
Currently, there are 4,000 open cases.
Some cases take more than a year to be heard.
The NMC says it will take them a couple of years to ensure that all cases are heard within the desired 15-month limit.
Harry Cayton, chief executive of the Council for Healthcare Regulatory Excellence (CHRE), said: "The Nursing and Midwifery Council needs to have a clear and consistent focus on its regulatory purpose. There are serious problems but we acknowledge the effort the Council, executive team and staff are putting into managing this transition."
The CHRE says the NMC must act rapidly to recruit a new Chair and Chief Executive in order to give staff and registrants "the settled leadership they need and deserve'".
And it advises that the Council strengthen how it oversees its finances.
Secretary of State Andrew Lansley said he would ensure all recommendations from the report are taken forward.
Dr Peter Carter, chief executive and general secretary of the Royal College of Nursing, welcomed the report but said he was concerned that the principle of professionally led regulation could be eroded by some of the recommendations.