Artificial heart keeps boy alive for record 251 days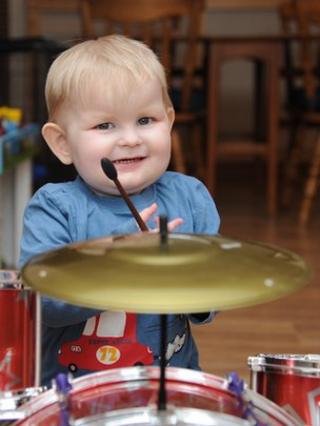 A three-year-old boy has been kept alive with an artificial heart for more than eight months, which doctors say is a record for a child in the UK.
Joe Skerratt from Gillingham, Kent, was diagnosed with dilated cardiomyopathy, which meant his heart struggled to pump blood around his body.
He was temporarily fitted with a "Berlin heart", to give his own a helping hand.
After 251 days, he finally had a heart transplant last year.
Joe's mother, Rachel, said "we started to see his character coming back" after he was fitted with the Berlin heart. But this was the start of a long wait for a heart donor.
"When Joe passed the 200-day mark on the Berlin heart we started to really question what else could be done if a heart wasn't found, but we knew deep down there wouldn't be much," she said.
"On day 251 the call we had been waiting for came. We were offered a heart for Joe. The call came early in the morning and time seemed to stand still before he was taken down to theatre."
After the operation, Joe's chest would not be closed for four days. Rachel said: "Seeing his new heart - a normal size and thumping away in his chest - was incredible."
Their first night back home was celebrated with Joe's favourite meal - pizza.
Joe was first diagnosed with dilated cardiomyopathy when he was taken to hospital looking grey at just three weeks old. An X-ray showed his heart was severely enlarged. He was later diagnosed with a genetic disorder - Barth syndrome, which leads to muscle weakness, short stature and feeding problems.
In December 2010, Joe's heart was failing and doctors found his valves were leaking. His heart had now become even more enlarged and was taking up too much space in his chest.
A few days later his heart stopped twice while he was in hospital. He was then transferred to Great Ormond Street Hospital in London, where his heart stopped for a third time.
Doctors stabilised Joe and he was fitted to a Berlin heart.
The Berlin heart is about the size of a small fridge. Some children need to be on the device for only a couple of weeks, while for others, the wait for a new heart can take many months.
Dr Alessandro Giardini, consultant paediatric cardiologist at Great Ormond Street, said: "We are really delighted to see Joe doing so well and thriving at home. He spent a long time with us in hospital.
"Joe was very lucky to be able to have a heart transplant. There is a chronic shortage of donor organs for children in the UK and at any one time we have several children in the hospital awaiting a transplant. Lots of children wait years for an organ to become available and can very sadly die while they are doing so."
Joe's parents have both called for people to join the NHS organ donor register. Rachel said: "We are eternally grateful to the donor family.
"We cannot imagine what they went through, their generosity of thought at such a horrendous time is completely selfless and amazing."