Newborn screening to be expanded in pilot study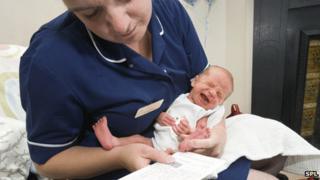 The number of genetic diseases for which newborn babies are tested is to double in a pilot study by the Department of Health.
About 700,000 babies in the UK are tested for genetic conditions such as cystic fibrosis every year.
Now an additional five debilitating disorders - all of them rare - will be tested for in five areas of England.
The chief medical officer for England said it would give more children the "chance to live a long, healthy life".
The tests are performed by a midwife and they generally take place within the first week of life. The baby's heel is pricked and drops of blood are collected and analysed in a laboratory.
This method of screening gives families access to specialist treatment and support from an early stage if there is a problem.
At the moment five conditions are tested for: sickle cell anaemia, which affects 350 babies a year; cystic fibrosis, which affects 250 babies a year and phenylketonuria, congenital hypothyroidism and medium chain acyl-CoA dehydrogenase deficiency (MCADD).
The pilot scheme in Sheffield, Leeds, Manchester, Birmingham and London means 430,000 newborns a year will be also screened for:
Maple syrup urine disease
Homocystinuria
Glutaric acidaemia type 1
Isovaleric acidaemia
Long chain fatty acidaemia
All affect about one in every 100,000 births - or about seven babies - a year.
The chief medical officer for England, Prof Dame Sally Davies, said: "This is a fantastic step forward for the newborn screening programme and shows the NHS at the cutting-edge.
"This pilot will identify more babies with serious conditions, giving them the chance to live a long, healthy life."
Dr Anne Mackie, the director of programmes for the UK National Screening Committee, said: "This pilot will gather evidence so we can understand whether offering tests for these conditions to a whole population is of overall benefit.
"The UK is a world leader in screening policy. We look forward to reviewing the findings of this study."
The trial will run for one year, starting in July.