Egg and sperm donors: HFEA in drive to increase numbers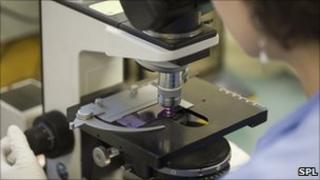 The UK fertility regulator is seeking to reduce the taboo around egg and sperm donation.
The Human Fertilisation and Embryology Authority (HFEA) says people should feel the same about it as they do about altruistic, or living, organ donation.
It is launching a new drive to encourage more donors to come forward to help infertile couples have a child.
But critics say egg donation is an invasive process, and women should be warned of the risks.
Infertility affects about one-in-six couples in the UK, and when other fertility treatments fail, they sometimes turn to egg or sperm donors for help.
But because of a shortage in donors in the UK, a number go abroad for treatment, sometimes to unregulated clinics.
The HFEA is trying to increase the number of national donors because of concerns about the safety of treatment abroad.
Last year it agreed to increase the levels of compensation given to egg and sperm donors.
Now it is bringing together a group of experts to help develop ways of increasing awareness of gamete donation in the UK, and to encourage people to regard it as a positive contribution to society.
'Extraordinary gift'
"Donating eggs to another woman is the most extraordinary gift," said HFEA chairwoman Lisa Jardine.
The HFEA is also worried that some fertility clinics may discourage donors by making them wait and failing to return their phonecalls.
"It's important to make sure donors are really valued and looked after at clinics," said Laura Witjens of the National Gamete Donation Trust, which helps couples seeking egg or sperm donors.
The HFEA said it was going beyond its usual remit by bringing together aNational Donation Strategy Groupto look at how to raise awareness.
But critics argue that donors should not be given more encouragement to come forward.
Josephine Quintavalle, of Comment on Reproductive Ethics, said egg retrieval was an invasive process that posed potential health risks.
"It's one thing to incur risks for your own fertility treatment," she said, "quite another to be exposed to those risks for the benefit of other mothers."