Care Quality Commission has long way to go, say MPs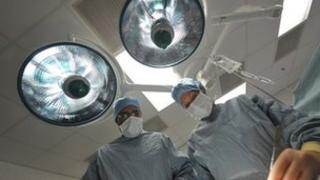 The Care Quality Commission - England's health and social care regulator - still has a "long way to go" before it is up to scratch, MPs say.
A series of critical reports have already prompted CQC head Cynthia Bower to announce she is quitting.
The cross-party Commons Public Accounts Committee said it still had concerns, after branding the CQC's performance so far a failure.
The CQC said it had made "significant improvements" in recent months.
The regulator was set up in 2009 from the merger of three previous organisations.
It currently regulates more than 21,000 providers, from hospitals to care homes, but in the past year it has found itself at the centre of controversy.
'Far from convinced'
Criticism has snowballed since the abuse of residents at the Winterbourne View residential home, near Bristol, was uncovered by the BBC's Panorama programme.
The CQC was also heavily attacked during the public inquiry into the failings at Mid Staffordshire NHS Trust, and in reports by the House of Commons Health Committee and the National Audit Office.
This report by MPs echoed many of the criticisms made in these previous reports.
It highlighted the lack of inspections carried out, the decision to scrap a whistleblowers' helpline and failure to fill key vacancies.
The MPs concluded the CQC had failed its vital role of protecting people from poor quality and unsafe care.
And they said the findings raised questions about the organisation's governance, leadership and culture.
Looking ahead, they said that while things were improving, the CQC still had a "long way to go" to become an effective regulator.
In particular, they added they were "far from convinced" the regulator was up to the major challenge of registering and assessing 10,000 GP practices later this year.
They said there was a risk the CQC could simply become a "postbox", as the programme involves GPs sending in their own assessments.
David Stout, of the NHS Confederation, which represents managers, said the findings "reflect very closely many of the concerns our members have raised".
He said the CQC now needed a clear action plan for the future.
But the Department of Health said it was already trying to address what were long-standing problems and had recently agreed funding for more inspectors.
A spokesman for the Care Quality Commission said: "We are disappointed that the report does not recognise the significant improvements of recent months."
He highlighted the rise in unannounced inspections - there were 2,400 in January alone - and claimed the regulator was delivering benefits for patients.